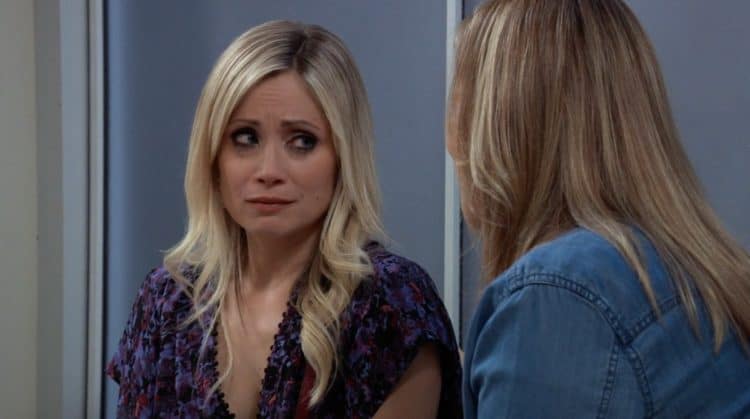 General Hospital fans are sad. They are sad because they know the end is coming. The show's cast and crew were unable to return to work yet, and that means there are not many new episodes left to share. We know right now that there is a lot happening that we want to see resolved, but we also know that this is about to end. We are going to bring you the plot line predictions we have for the rest of the month, but understand that it's pretty much just this week. Once this week is over, we know that we will see nothing happen by flashback episodes and theme weeks like the CBS soaps have been airing. Beginning on May 25, there are no new episodes to air and share, and we are crushed. So, here's what is going to happen on this last week of the show, and what we can expect from the flashbacks.
Carly Hurts Michael
Her past, that it. She would never hurt her son, but the truth of the matter is that she has a lot going on in her life, and it's not all good. She's got a shady history and things that aren't so good at a custody hearing, and we hear that they will absolutely be brought up at the hearing. This might not be good for her son. Her past mental health might not make it seem like her own family is good enough to take care of this baby, and that might not be good for her son as he tries to get the judge to give him his own son rather than to allow Nelle any help.
Nina Takes Nelle's Side
Nina is a woman who thinks she's found her daughter, and she will do anything and everything she can to make sure that she can keep a relationship with her. She doesn't have one, so she's doing things that might allow her to change that. She is going to take her situation to Nelle to make sure that they can bond and that they can bond. She might get what she wants, but it's more likely that she will not. She will not do this for a good bonding reason. She is doing this to win and to get what she wants, and she doesn't care how her 'mother' feels about her or the way things are going as long as she can get her way and that's all there is to say about it.
A Wedding or Two
We hear that there is a big rumor around town right now, and that rumor is that there is going to be a wedding. Whose, though? We hear that it might just be Willow and Michael, who need to get married so that he can hit Nelle for full custody of his son without any visitation or rights of her own. But, we also hear that Nelle is doing a little something of her own to try the same thing. Rumor has it that she and Valentin might be planning something a little more exciting than they have let on, and we do hear that the wedding they are planning to show this week might just be their own wedding. This might not go over well with anyone, but we cannot imagine how Nelle's new 'mom' might feel about this if the news comes out.
The First Theme Week
We know that it's going to be hard on everyone to sit back and watch another show end, but it's always fun to go back a while and see things you haven't seen in some time. Starting next week, we will see things unfold in that manner of speaking. We will see the show take it's time back in the day and show us things we have not seen in a long time. The first theme week ABC will bring us is a good one, too. It's Nurses' Ball week, and that is so appropriate. For one, we are so happy for our medical heroes these days. Two, it's easy for us to see this being the first week because it is so important to the show as a whole.