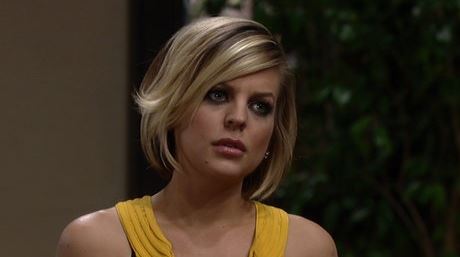 General Hospital fans are speculating what might happen to Maxie. We don't see this pregnancy going well for her in the state she's in. She's so stressed, worried, and completely upset. She's got nothing going for her right now, but she's also going to feel there is nothing she can do to make things right and make things good in her life, and her husband is not helping her. Nathan's actions are causing her a lot of turmoil, and he doesn't seem to care.
So right now she's a mess, and we think there is a good chance this will affect her pregnancy. We don't know if anything will happen, but we want to put out there we would not be surprised if she faces some complications. People don't go through this kind of stress and pain and not have something like that happen. She's a mess, and she's going to cause problems.
But will those problems actually help her to face what is going on in her life? Will they help her to get her husband back? Will they teach Nathan any lessons about where he needs to focus his attention in life rather than on this entire mess with Amy and all that? He's not in a good place himself, but perhaps a very shocking and very dangerous reminder of what's important is all he needs. Could that be the best thing that happens to Maxie in the near future, and will writers do that to her and her unborn baby? Or will Nelle take her baby from her?