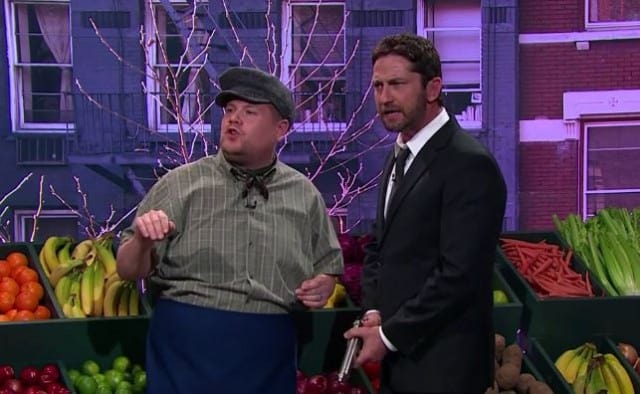 Gerard Butler was on The Late Late Show With James Corden last night to promote his new film London Has Fallen, the sequel to the surprise 2013 hit Olympus Has Fallen. However, the actor did not only talk with Corden about the movie on The Late Late Show, but the two of them also unveiled a "deleted scene" from it as well.
In the very funny scene, Corden plays a salesman running a fruit and vegetable stand on the streets of London. While advertising "a pound for a pound of fresh fruit," Corden's character, Jimmy, runs into a masked criminal, who sprints away before he can stop him. Then Jimmy meets Butler's Mike Banning, a Secret Service agent sworn to protect the President of the United States, but he isn't exactly the best at giving Banning clear or helpful information about what direction the criminal went in.
Check out Gerard Butler and James Corden's hilarious scene together in the video below, and comment to let us know if you plan on seeing London Has Fallen this weekend (although, really, you should go see Zootopia, because it's one of the best and most important films that Disney Animations has ever made).
[Photo via YouTube]