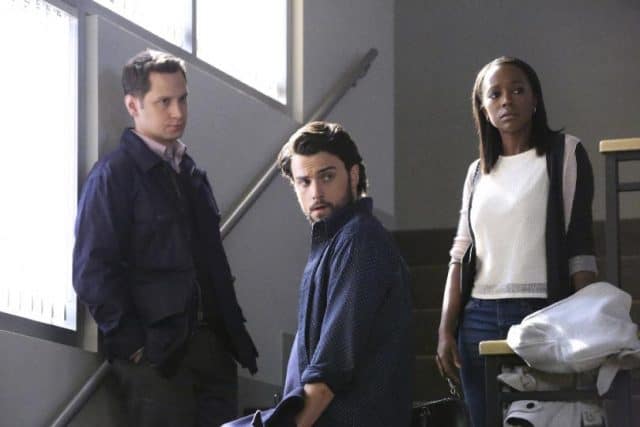 With each episode this season, How to Get Away with Murder has been revealing characters that aren't deceased in the flash-forwards, and it's been an extremely effective way of keeping the audience engaged. Let's take a look at who else is alive in this week's new episode, "Is Someone Really Dead?"
The episode opens with the reminder that a male is the deceased from the house, and Mikayla calls Asher, worrying that the body might be his. Again, this is such a spectacular way to keep the audience caring, and it's much more effective than the flash-forwards from the previous seasons. The mystery of a main character's death is always good for viewers, and engagement is at an all-time high.
Three weeks earlier, Asher is alive and well (and dancing to Cotton-Eyed Joe") as Annalise, Bonnie, and the Keating 5 all deal with new developments in their lives. The revelation that Bonnie met with Frank is a tough one for everyone involved to deal with, but we're quickly assured that Bonnie is still the one to trust. Liza Weil is often the heart and soul of this show, and her story over the past, oh, season and a half has shown that clearly.
Annalise's personal spiral remains fascinating to watch play out. This week's story wasn't quite as engrossing as last week's but there's still plenty to love (especially seeing what she does to a particular bag of chips). The performance of the week has to go to Jack Falahee, though, whose role as Conner is still one of the best on the show's three seasons. His confrontation with Wes about everything being Wes' fault is one of my new favorite scenes from How to Get Away with Murder, and you can just feel the emotion pouring off the actor.
The biggest development of the week is Wes and Laurel hooking up (finally). It's been a long time coming, but it's finally happened and should prove to create a cool new wrinkle for the show. It also (probably) gives us an idea of how Laurel is pregnant in the flash-forwards, and that, too, should be very fun to see explored.
"Is Someone Really Dead?" is a bit of a slower and less impactful episode than last week's great one, but it's still strong and does a good job of doling out a bit more information about what's really going on in the future storyline. We're getting very close to the reveal (which should come during the mid-season finale in three weeks), and the story is turning out to be more exciting than ever.
What did you think of this week's episode of How to Get Away with Murder? Let us know your thoughts in the comments down below!
[Photo Credit: ABC]
How to Get Away with Murder Season 3 Episode 6 Review: "Is Someone Really Dead?"
Summary
While a bit slower than last week, "Is Someone Really Dead?" delivers a strong episode in another great season.