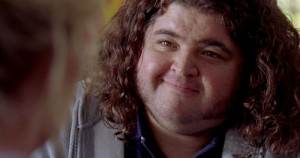 Jorge Garcia is one of the most famous television actors currently on — and now you have the chance to see his face off the small screen, on Lopez Tonight. Yes, I realize that Lopez Tonight is actually on the small screen, but I'm not talking about you tuning in to TBS on May 12 to see Lopez interview everyone's favorite cursed lottery winner. You could have seen that on Jimmy Kimmel Live! last night.
No, TBS wants you to be able to see Jorge Garcia live and in person. How are they going to manage that? Well, they're giving away free tickets to the May 12 show, which will film in L.A. If you've had dreams of being in a live studio audience, you can mix those with dreams of seeing Jorge Garcia in person. TBS is looking to give away 100 – 200 free tickets to the studio, and you can get yours online through Lostpedia. And, since I'm a Lostpedia administrator, I'm extending that courtesy to you, readers of TVOvermind.
Simply click this link, and, when prompted, enter the promo code "lostpedia." From there you'll be prompted to fill out a few details, and then you'll be contacted by a TBS staff member to hook you up with your tickets. Unless you're planning on being around the L.A. area on May 12, I would suggest not signing up. But if you will be around, it's a great opportunity to see one of your favorite castaways live and in person.