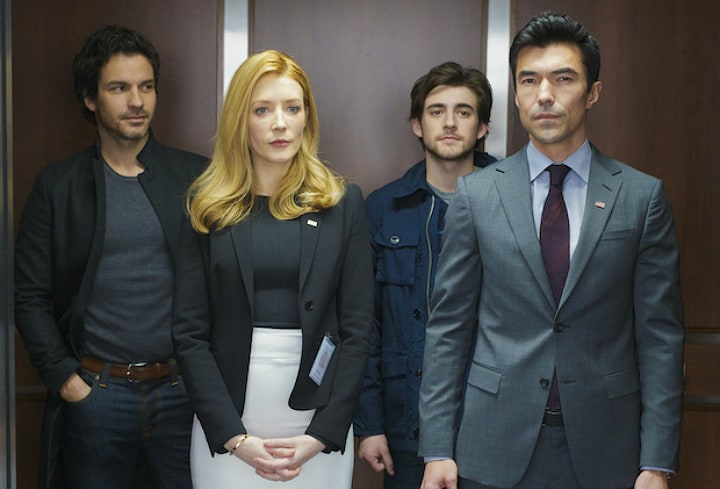 The season 1 finale of Salvation was excellent in that it dealt with two possibilities. It could have served as a series ender that dished up a lesson in melancholy existentialism.  That would have been okay.  However, they also set up some new questions, so the better scenario was the show getting renewed. Happily, it did. Then all we had to do was wait for the summer to roll around again.  
At the time it felt like a long time to wait, but the time has flown by!  Summer's back – and season 2 of Salvation starts Monday, June 25 on CBS!  We've got 13 episodes of watching the fate of the world be at stake!  Of course, what's really on many viewers minds is the romantic fate of tech entrepreneur & genius Darius Tanz (Santiago Cabrera), Pentagon spokesman Grace Barrows (Jennifer Finnigan), and Secretary Harris Edwards (Ian Anthony Dale).  
There's also a question about how the idealistic writer and researcher Jillian Hayes (Jacqueline Byers) is doing. Â Will she forgive her boyfriend Liam Cole (Charlie Rowe) choosing to try saving the world instead of staying safely in the "Salvation" with her? Also, what nefarious plot does the terrorist group "Resist" have planned for Darius's "Tess" computer source code?

Well, the first promo for season 2 of Salvation has some clues to all of the above!
https://www.youtube.com/watch?v=euOFTB-WW38
What We Can Guess from the Season 2 of Salvation Promo
From the looks of things, Grace does not stay in that bunker!  The real question is why is she the only one awake on the floor. (You can hear her say, "Oh my God" in the Facebook promo.  It's basically the same as this one, but the synch is off.)  As for Resist, they seem intent on seeing the world self-destruct.  What is wrong with them!?
 Do you think turns out that Darius's uncle, Nicholas Tanz (John Noble) is behind "Resist"?  That would make sense, right? I mean, the man hates everyone!   However, let's hope Grace's dad doesn't turn out to be a bad guy! That would not be a happy twist! Let's hear your theories about season 2 of Salvation in the comments!