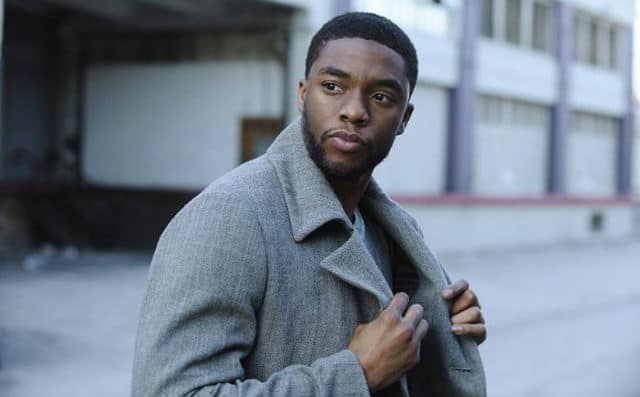 The Marvel movie Black Panther isn't out until February 2018.  However, its star, Chadwick Boseman is playing a different kind of legendary superhero this October.  Marshall is a story about the civil rights giant Thurgood Marshall.  If you're not up on your American history, he was the first African-American ever appointed to the Supreme Court.
Continuing in the vein of super heroes, you might want to consider the film to be Supreme Court Justice Marshall's origin story.  That's because the screenplay by Michael and Jacob Koskoff doesn't address Justice Marshall's time on the Supreme Court.  Nor does it go into the time period of his historic victory in Brown v. Board of Education.
Instead the film hones in on the early days of attorney Marshall. Â It particularly focuses in on a case that at the time gripped the nation. Â In 1940 a white Connecticut socialite accused her black chauffeur of rape and attempted murder. Â At the time Marshall was a lawyer for the NAACP. Â  They send Marshall to Connecticut to defend the chauffeur. Â As you can imagine, this was not going to be an easy task.
In an interview with The Hollywood Reporter the film's director, Reginald Hudlin (House Party, Boomerang), describes Marshall as "a thriller, not a biopic."  He also promises that the film will be "a lot more fun than anyone expects."  After viewing the trailer you can see what he meant.   Written into the script for the character Marshall are definite notes of sly humor. Given the various accounts of the man this seems quite appropriate.  Comic relief is also provided by Josh Gad (Beauty and the Beast) as Sam Friedman, the Jewish lawyer paired with Marshall on the case.
At the same time, the trailer shows that this film is not a comedy.  It's clear that something terrible did happen to Eleanor Strubing.  She's the wealthy socialite being portrayed by Oscar nominee Kate Hudson.  At the same time it seems something just as horrible may be happening to the accused rapist.  Sterling K. Brown (This is US, The People vs. O.J. Simpson) plays the defendant Joseph Spell.  Even within the short moments of him shown, the gravitas of the situation permeates the scenes. The issue of rape, race, and the question of false accusations, are not being treated lightly. 
Other stars TV fans will recognize in the film include Sophia Bush (Chicago P.D.) and Jussie Smollett (Empire).  Smollet is playing the historical figure Langston Hughes.  Last year Empire star Taraji P. Henson starred in Hidden Figures.  It also was a film about a largely unknown (or at least unspoken about) story in American history. That film garnered three Oscar nominations – including Best Picture.  Could that be a sign for Marshall?  Oscar season is still months away, so we'll have to wait and see!