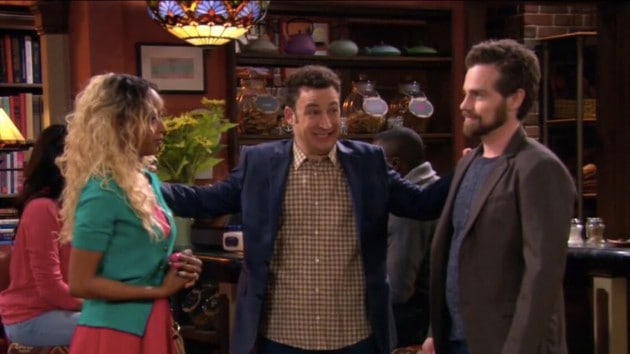 We wondered, we waited, and Boy Meets World fans everywhere finally got answers to some very difficult questions. After 15 years, two Boy Meets World characters reprised their roles on Girl Meets World to help Shawn Hunter take a step forward in his life.
Longtime fans will remember that Shawn Hunter's life has pretty much been one sucker punch after another. Abandoned by his parents and the woman he loved, Shawn hasn't let anyone into his heart in a decade and a half. On the mother show's sequel, Shawn finally has the chance to get everything he's ever wanted, a real family; but life doesn't just hand you everything that easily. Like its predecessor, Girl Meets World recognizes that sometimes life throws you a curveball you couldn't have predicted.
Shawn's budding fatherly relationship with Maya has been blossoming beautifully, pardon the mix of my metaphors. They're the perfect father/daughter fit. The look on Shawn's face as he saw Maya in a new outfit, well, "WOW" doesn't even begin to describe it (though at this point I start blubbering like a baby). Shawn even understands the difficulties that being a parent entails, since he makes sure Maya thanks her mother for all the hard work she does. I'm with Riley at this point, barely able to contain my bliss that Maya's dreams of having a father could finally come true!!!!! Maya has hope for the first time in a long time, and she wears it well.
The closeness between Maya and Shawn is obvious, but the relationship between Shawn and Maya's mother Katy is a little murkier. Before they can even begin to figure out what they are, or could be, to each other, Shawn's past comes walking through the door. Rather, Cory walks through the door yelling "AAAAH!", and then Shawn's ex-girlfriend Angela walks through the door. AAAAH!!!
This is a nerve-wracking moment for BMW and GMW fans, as evidenced by Maya, Riley, Katy and Cory's conspicuous eavesdropping. We get the news that Angela's father has passed away (RIP Sergeant Moore), and that Angela is actually married now (awkward!). So BMW fans hoping for a Shawn and Angela romantic reunion were sorely disappointed. Angela actually sought out Shawn to ask him if he thinks she can be a good mother, given that both Shawn and Angela were both abandoned by their mothers. After getting a glimpse of the parenting feeling with Maya, Shawn tells Angela to go for it, and Angela tells Shawn to do the same with Katy and Maya.
Shawn still needed that final push though, and who better to give it than his father (in spirit form of course, and the BMW episode of Chet Hunter's death I still can't talk about without tearing up). Chet advises Shawn, the way only Chet can, reminding Shawn how important hope is. Katy asks Shawn on a date, Shawn accepts, Maya pulls a Riley in the background ("YAAAAAAYYYY"), and Chet looks on with a final "That's my boy".
Here's hoping Shawn Hunter finally gets his happy ending.
[Photo via Disney Channel]