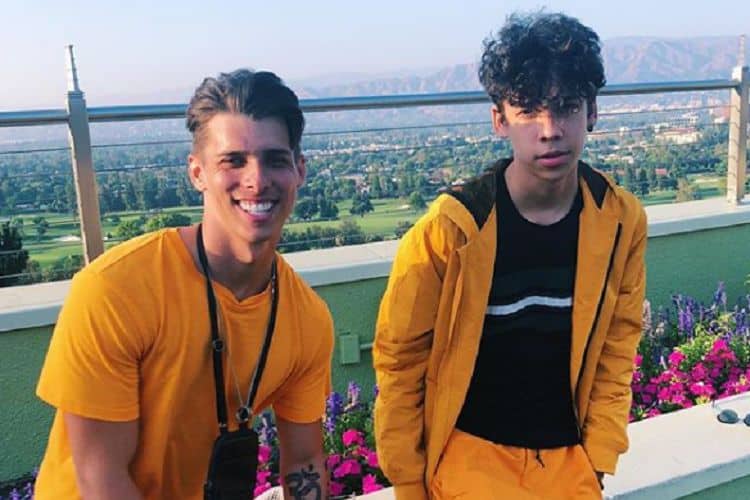 If you don't know who Gilmher Croes is, then you've been missing out on some of the funniest content on Tik Tok lately. As one half of the hilarious Croes Bros, Gilmher brings his own brand of insanely funny lipsync, and his dance skills to social media, and people love it. It's no surprise since his face is as elastic and animated as the average cartoon character. We could watch him satirize songs all day, and full disclosure… we have. So it was only natural we'd check into the star and bring you ten facts you didn't know about Gilmher Croes.
1. Tik Tok McRib
When it comes to making a social media name for yourself these days, everyone is flocking to Tik Tok. Why do stars like Gilmher Croes rise so quickly on the platform? Well, it may have something to do with the insane popularity of Tik Tok itself. With over a billion downloads, more than one out of every seven people on the planet has Tik Tok these days. Essentially it's the McDonalds of social media, but acts like Gilmher are the much sought after McRib in this analogy since folks can't ever seem to get enough.
2. Self Abasing Humor
The internet is filled with trolls. Moreover, plenty of comedians make their careers out of being nasty to and about other people. In a world of nastiness, Gil's sense of self-abasing humor is a breath of fresh air. He makes fun of himself as much as anything, and his comedy is never mean or crude, though we wouldn't call it 'classy' either. With billions of people on earth these days, it's hard to be different and stand out, but Gilmher has found his voice in the crowd, and we genuinely enjoy seeing it.
3. Kinda Old
In the Tik Tok-iverse, many of the stars are still teenagers. Croes is in his mid-twenties, which makes him among the older members of the platform to enjoy such success. That isn't to say older people don't post, but a substantial percentage of the celebs coming out of this wildly popular app are younger, even underage. Whatever his 'number' Gilmher is fun to watch, and he seems to have endless energy for making us laugh.
4. The Best Big Brother Ever
Jayden Croes certainly takes after his big brother. They share more than some genetic markers to be sure. We don't doubt that Gilmher's influence is a massive part of what helped his little brother step up and join the fun. We call that a win, and so do they. The sweetly entertaining interactions between the Bros comes through clearly. The fact that they have such a good time together is something most sibs wish they shared.
5. Aruban
Croes is from Aruba. The Carribean island may still be best known for its part in a Beach Boys song, but most people don't know much else about the island nation. Aruba is part of the Kingdom of the Netherlands. Travelers are fond of the stunning white-sand beaches, and naturally, so are the locals. So, if you're wondering why the scenery in the background of some of Gilmher's videos is so incredibly scenic, it's because he lives in an astoundingly beautiful country.
6. VidCon Star
For those social media lovers who are lucky enough to be heading to VidCon this year, you're in for a treat. The Croes Bros will be making a guest appearance at the convention. We don't know if they're performing, but we certainly hope so.
7. Gen Z
Getting to younger audiences has always been the aim of entertainers. For Gen Z, the most crucial platform is undeniably Tik Tok. Though they're not alone, Gen Z is obsessed with the short video dynamo, and they have been from the start. Savvy performers like Gil Croes have found a way into the hearts and minds of the next generation through the Vine descendant that's like nothing else out there today.
8. Number Eight
When it comes to 'ranking' the best social media stars, everyone has their own system, and no two are quite the same. Regardless of how you slice it, Gil is one of the most beloved Tik Tok personalities and lands on almost every list. According to the Daily Dot, he's number eight on the list of accounts you have to see. We'd probably put him a lot closer to number one. Still, eight out of millions is a pretty respectable rank.
9. Beyond Bros
The Croes Bros, Gilmher, and Jayden are renowned stars whose faces are known worldwide. However, what most people are less aware of is the fact that they aren't the only Croes kids. The guys also have a sister named Roxanne. As far as we can tell, the Croes sister isn't 'into' social media the way her bros are, and we couldn't find a video or picture of her anywhere.
10. Mysteries of Gil
IS Gilmher Croes Dating? What's his net worth? These are the questions everyone asks about their favorite celebs. Unfortunately, we can't answer either of those questions. When it comes to his personal life, Gil manages to keep most of it to himself. It can be incredibly challenging to keep the public out of your pocketbook and your bedroom once you become famous, but some stars have managed to pull it off, and we can certainly respect that. All we can say is, he's not sharing those deets, and we know he makes some money since the Croes Bros sell their own branded merchandise.
Final Thoughts
If you haven't seen Gilmher's latest videos, there's always time to catch up. The Croes Bros are one of the most amusing and follow-worthy things online and on your smartphone. If you need to smile today, or you just like to laugh then, this Croes Bro is definitely for you. We're always waiting to see what he and his equally animated younger brother are uploading today. Are you a fan of dance and lipsync comedy? Let us know what you think in the comments below.