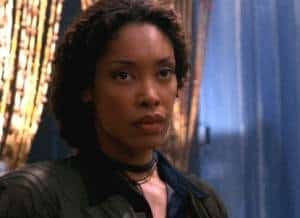 As if Gossip Girl wasn't already filled to the brim with impossibly beautiful people, Gina Torres has been signed on to play Vanessa's mother Gabriela. According to TV Guide , it sounds like Gabriela will be as far from Gossip Girl's cast of uptight Upper East Siders as you can get. A former Brooklyn gal who's been living in Vermont, Gabriela is set to be a "free spirit" and a warm, vibrant, and opinionated character. Here's hoping Torres gets to utilize some of her much-loved Firefly character Zoe's attitude and style.
Gina Torres has been busy since her Firefly and Serenity days, appearing in The Shield, Alias, Without a Trace, and the short-lived series Standoff. Torres provided the voice of Vixen for the animated series Justice League, and starred in Chris Rock's feature film I think I Love My Wife. She also did guest starring roles on three Acclaimed But Canceled (ABC) series: Eli Stone, Pushing Daisies, and Dirty Sexy Money. Married to CSI actor Laurence Fishburne, Torres gave birth to daughter Delilah in June of 2007.
Those who have thus far resisted the lure of guilty pleasure Gossip Girl may tune in to see what Torres does with her new role. Vanessa (Jessica Szohr) has taken some darker paths this past season, so it will be interesting to see how her mother might influence her choices now. This high society soap definitely has its shallow aspects, but it has enough Jane Austen-inspired self-awareness and wit to make for an entertaining ride. Gossip Girl also nets a wider audience with its multi-generational appeal–the pretty kids have pretty parents, who go through dramas and romances of their own.
Gina Torres is confirmed for two episodes thus far, but the plan is for Gabriela to be a recurring character. Watch the new season of Gossip Girl on the CW, beginning Monday, September 14 at 9/8c.
Check out the Gina Torres page at IMDB.