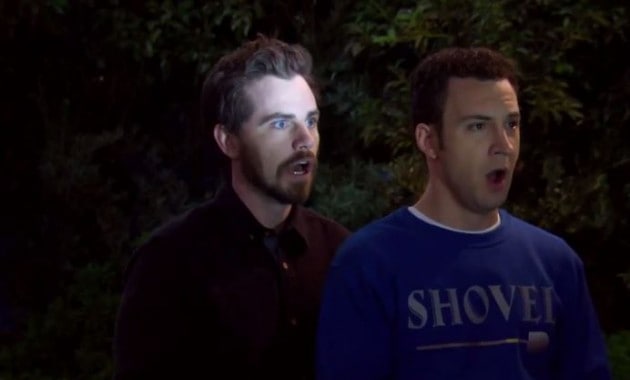 "Riley's met some outrageous things…you won't believe what she meets next!" are the openings words of this all-new Girl Meets World Season 2 promo. However, what will make fans of the Disney Channel series (and particularly fans of the original Boy Meets World) very excited isn't what Riley will be meeting in Season 2 but whom she'll be meeting. As you can see in the video below, when Girl Meets World returns for its second season, it will be featuring some pretty fantastic guest stars, not only Rider Strong returning as Shawn, but also William Daniels and Will Friedle reprising their roles as Mr. Feeny and Eric.
All of these big returns will be a part of Girls Meets World's premiere week, when the show will air five all-new episodes, one half hour every weeknight. Daniels' Feeny, who was last seen at the end of the Girl Meets World pilot (Cory envisions him after he has a heart-to-hear with Riley), will appear in not just one but two episodes during the series' Season 2 premiere week. He'll first return in the Season 2 premiere, "Girl Meets Gravity," and show up again in that Thursday's episode, "Girl Meets Pluto," which will also feature Rider Strong as Shawn, as the original Boy Meets World characters head back home to Philadelphia to dig up an old time capsule from their childhood (here's hoping this episode has some awesome flashbacks in it!).
Meanwhile, Friedle's Eric will make his Girl Meets World debut in the terrifically titled "Girl Meets Mr. Squirrels," the last episode of the show's Season 2 premiere week, in which Eric is brought in to help resolve a major fight between Riley and Maya.
Girl Meets World Season 2 begins its premiere week with "Girl Meets Gravity" on Monday, May 11, at 8:30 p.m. on Disney Channel. Watch the Season 2 promo below.
[Photo via YouTube]