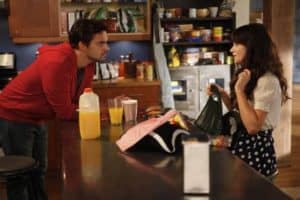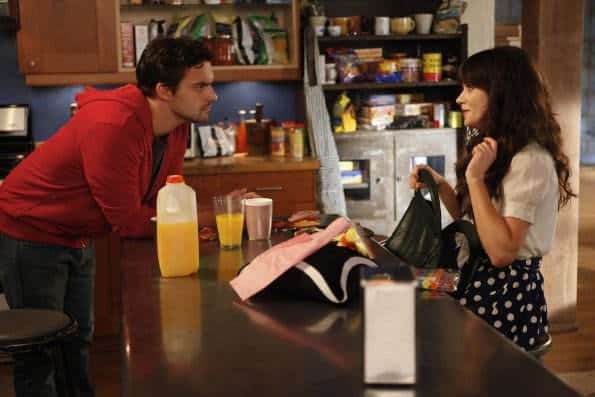 New Girl might not have any new episodes airing until November 1; however we do have details for the forthcoming November sweeps and some more casting news.
Episode 1.04 "Naked" (November 1): When Jess (Zooey Deschanel) accidentally walks in on a naked Nick (Jake Johnson) and laughs, this sends his confidence to an ultimate low. This is particularly bad timing as his attractive co-worker (guest star Lake Bell) has agreed to go on a date with him. Nick must also try and work out this uncomfortable situation with Jess (as seen in the promo photo). Meanwhile, whilst Nick is dealing with this issue, Winston (Lamorne Morris) becomes obsessed with learning pop-culture references online.
Episode 1.05 "CeCe Crashes" (November 8): Jess' friend Cece (Hannah Simone) ends crashing at the loft much to the delight of Schmidt (Max Greenfield), who uses this opportunity to try and charm/seal the deal with Cece. Cece however has other ideas and use the time to give advice to Jess; this includes the potentially awkward inducing observation that Nick likes Jess as more than just a roommate.
Episode 1.06 "Thanksgiving" (November 15): Guest star Justin Long makes his first appearance as Jess' music teacher colleague (and long time crush), he also happens to be called Paul Gunslinger. Jess invites Paul to Thanksgiving at the loft, expect chaos.
We also have some news regarding a character who will be showing up in episode 9 to solve a medical emergency (the episode is called "Injured"). Nick doesn't have any health insurance and so opts for a slightly unorthodox route of medical treatment and visits Jess' OB/GYN. As first reported by TVLine this role will be played by Upright Citizens Brigade vet June Diane Raphael (who you can currently see in the live-action Adult Swim series NTSF:SD:SUV). The character of Sadie is described as a smart, intimidating but helpful lesbian friend of Jess'. She also happens to be a rather skilled archery player when she isn't performing her day job (or helping men without medical insurance).
When New Girl returns in a couple of weeks it looks like there will be a lot of hijinks with Jess and the guys to make us forget this early break in episodes.
Are you looking forward to the return of New Girl and these forthcoming episodes? Let us know your thoughts in the comments below.