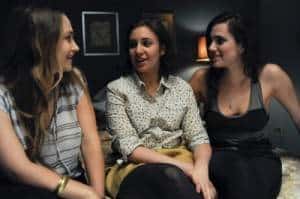 Following the purging of several male-leaning comedies, it looks like HBO wants to build a female-heavy slate of comedies to join the recently renewed awards magnet Enlightened. First up on the docket is Girls, a quirky girl-in-the-city comedy with a brand new trailer to boot. There have been multiple teasers to hint at the potential behind the concept, but the 1:32 trailer plays like an indie movie trailer, all driving uptempo music and action centered on a heroine whose journey toward self-discovery we'll be following for 10 episodes.
Instead of the going for the glamour and decadence of that other HBO New York girl comedy, Girls looks to examine female sexuality and the search for one's place in the world on a simpler yet still effective scale. There'll likely be some inherent similarities between the two shows, but one look at the trailer shows that Girls seems more comfortable in the awkward and more unwilling to bat an eye at situations that would horrify four of our favorite single girls.
Created by Lena Dunham (Tiny Furniture) and executive produced by Judd Apatow (Knocked Up), Girls follows 20-something city girl Hannah (Dunham) as she tries to learn about dating and make a life for herself post-college. Joining Hannah are her friends Jessa (Jemima Kirke), very artistic and hippie-ish, and Marnie (Allison Williams), aspiring to become an environmental lawyer, as well as her carpenter boyfriend Adam (Adam Driver).
Girls premieres Sunday, April 15th at 10:30 on HBO. It'll be joined the following week by Armando Iannucci's Veep, which stars Julia Louis-Dreyfus, at 10:00.
Does the trailer make you more likely to check out Girls when it debuts this spring? Do you think that making more female-led comedies is a good move for HBO? Judging by the trailer, do you think that Girls will accurately portray that post-college period of finding yourself?
http://www.youtube.com/watch?v=9RIqj_ZgGN0