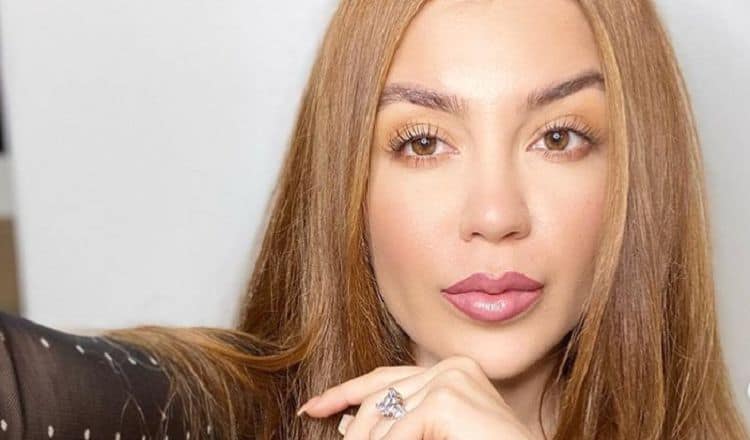 Giselle Soto is no stranger to attention, but recently she's been getting more attention than ever before. Her relationship with Mexican singer/songwriter, Lupillo Rivera, has been making headlines lately as some suspect the couple has gotten married. While her relationship may be what some people know her best for, there is much more to her than many realize. Giselle is all about her business and she has had a very successful career as an entrepreneur. If anyone out there thought she was simply another pretty face, they're about to find out just who Giselle really is. Continue reading to learn 10 things you didn't know about Giselle Soto.
1. She's A California Native
Giselle was born and raised in California, but like Lupillo she has Mexican roots. Her family moved to the United States in hopes for a better life and she has always done her best to make her loved ones proud. While she didn't follow the traditional path her parents may have been hoping for, I think it's safe to say they're proud of how things have turned out for her.
2. Her Faith Is Important To Her
Everybody needs something to guide them throughout life, and for Giselle that thing is her faith. Although we don't know the specifics of her beliefs, it does appear that she is a Christian. During an interview with Voyage L.A. she said, "I've learned to prepare the plan, execute the plan, and let God handle the rest."
3. She's Passionate About Health And Fitness
Looking and feeling her best are things that have always been important to Giselle and staying healthy and fit are obviously two of the best ways to do that. She is careful about what she eats and she also makes it a point to incorporate exercise into her regular routine.
4. Her Shoe Game Is Top Notch
Even though fashion isn't necessarily Giselle's thing, she has a great sense of style and knows how to put an outfit together for any occasion. To Giselle, however, no outfit is complete without the perfect pair of shoes. She has a great eye for shoes and seems to especially love boots.
5. She Has Her Own Business With Celebrity Clientele
Giselle is a very successful business woman and the proud owner of Giselle Soto Brows. She is a master at styling brows and she has earned a large celebrity clientele over the years. Some of the people she's worked with include Normani, Michelle Williams, and Nazanin Mandi.
6. She Loves Making People Feel Good About Themselves
Some people may think that Giselle's line of work is all about making people look good – and while it's true that that is a major component, her real goal is to help people feel good. She loves using her talents to empower other people and help them feel confident.
7. She's Dealt With Anxiety
Although Giselle has achieved a lot of success in her career, the word hasn't always been easy. Feelings of anxiety are something she has had to deal with along the way. While talking to Voyage L.A. she said, " Anxiety and time management were some of my struggles along the way. Along with my anxiety, I am also a perfectionist, two things that don't go well together. In the prior months before opening the salon and in the very beginning I would sometimes over-analyze every step, micro-managing simple things unnecessarily, to only cause more anxiety."
8. She's Always Loved The Beauty World
Most people would agree that one of their goals is to be able to do something they love and get paid for it. That is exactly what Giselle has achieved. She's loved beauty for as long as she can remember but she initially just saw it as a hobby. It wasn't until she had a bad threading experience several years ago that she decided to enter the business herself.
9. She Wants To Start Her Own Line Of Products
Just because Giselle has already accomplished a lot doesn't mean she has any plans of getting comfortable. There are still a lot more goals she'd like to reach in the future. One of those goals is creating her very own line of beauty products that are organic and vegan.
10. She Encourages People To Chase Their Dreams
Part of the reason Giselle is where she is today is because she never gave up on her dreams. No matter how difficult the road got, she refused to let anything stop her from going after what she wanted. She encourages other people to do the same and hopes they realize that nothing is ever impossible.