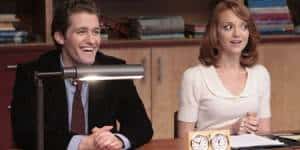 Glee may be off the air until April, but FOX has released a few videos from behind the scenes of the Fall finale episode. In the first video, the cast discusses getting ready for the Sectionals competition. The second video goes behind the scenes of Will and Emma's kiss. Jessalyn Gilsig visits the set on the day of the kiss – soooo cute.
Did you hear? Matthew Morrison, Jane Lynch, Lea Michele and Glee have all been nominated for Golden Globes. In fact of all the shows nominated, Glee received the most nominations.
Want a reminder of some of the great songs from the first half of Glee season 1? Check out a list (with videos/audio) of my personal favorites.
Email: clarissa @ tvovermind.com
Follow: twitter.com/clarissa373