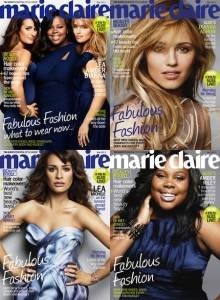 After all the controversy that magazine covers starring the ladies from Glee have managed to drum up this is one cover story that seems to be free from PTC griping. The May issue of Marie Claire features Glee stars Lea Michele, Dianna Agron and Amber Riley sharing the cover as well as shooting solo editions. The interviews discuss topics ranging from questions on fashion and style to the most ridiculous rumor they have heard about themselves. Dianna Agron steers clear of talking about former beau Alex Pettyfer but reveals another co-star hook up rumor which has them particularly tickled:
Everybody is convinced that Lea and I are in a relationship. There are supposedly forums with photos of us hugging at work or events. It's funny, but flattering – Lea is beautiful. Since when can't you hug your friends?
Doing a quick search on Tumblr shows that this is very true and that there are definitely Rachel and Quinn shippers out there under the name Faberry.
Other rumors that they find ridiculous relate to supposed diva like behavior, it is not just Lea Michele who has attracted this negative attention as Amber Riley tells the magazine:
A magazine said Chris, Naya [Rivera], and I would only answer to "The Artists," and that Kevin [McHale], Jenna [Ushkowitz], Heather [Morris], and Harry [Shum] were upset because we wouldn't talk to them. It's so funny because everybody knows Kevin is the most arrogant, pompous jerk – just kidding! It's ridiculous.
Other highlights of the interviews include favorite songs that they have performed so far (Lea Michele's is 'Don't Rain on My Parade' and that every episode for Rachel is Barbara Streisand themed), what they hope to happen to their characters in the romance department and reminiscing about their auditions for the show.
This edition of Marie Claire looks like a must for any Gleek as the interview focuses on how the actresses feel about the show, their characters and each other. It also promotes the three women as role models to their fans and tries to edge away from the overtly sexual pictures that appeared in GQ last year. Having become accustomed to seeing both Dianna Agron and Lea Michele on the covers of magazines it is also a very positive move to include Amber Riley, though having the whole female cast of the show featured would have been an even stronger move from Marie Claire. This would have led to a fold out cover but would have shown the diverse nature of the cast in full.
For more from the interview be sure to pick up the magazine and also head over to the Marie Claire website for exclusive content.