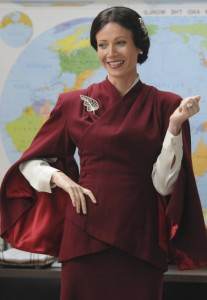 Last week we posted the full version of Charice singing "All By Myself" in the upcoming April 19 new episode of Glee (listen here). Now, Perez Hilton has shared the first preview of returning guest star Gwyneth Paltrow singing Adele's "Turning Tables".
Paltrow returns as substitute teacher Holly Holiday on the April 19 episode, and is also the new girlfriend of Will Schuester. Paltrow has appeared in a few Glee episodes this season and has covered several songs, including Cee Lo's "Forget You", a mash-up of "Umbrella/Singing In the Rain", Joan Jett's "Do You Wanna Touch Me", Prince's "Kiss" and a few others. Now she'll be tackling Adele's song "Turning Tables".
You can listen to her full performance below. What do you think, Glee fans? Does she do a good job, or would this song have sounded better coming from one of the glee kids?
Other songs that will be covered on the April 19 episode include Aretha Franklin's "Ain't No Way" and Lykke Li's "I Follow Rivers".
Don't miss an all new episode of Glee on Tuesday, April 19!
clarissa @ tvovermind.com
twitter.com/clarissa373
twitter.com/tvovermind