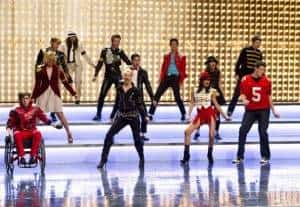 We've seen sneak peeks from the upcoming January 31 episode of Glee. We know that Darren Criss takes the lead on a group number of "Wanna Be Startin' Somethin'". And we know that Sebastian and the Warblers return to make trouble after Blaine accidentally spills some information about the glee club's Regionals set list. McKinley hopes to do some Michael Jackson songs – hence the assignment for the episode – but since the Warbler's drew first position at Regionals, they plan on stealing the MJ songs.
Now the full versions of the songs have been released. Naturally, Glee has taken a few liberties with some of the songs. For example, "Smooth Criminal" is now performed solely with cellos, which, frankly, sounds amazing.
Here's the full song list:
1. Wanna Be Startin' Somethin' – Blaine and group
2. Rock with You – Sebastian & Warblers (only song not available)
3. Bad – Artie, Santana, Blaine, Sebastian
4. Scream – Artie and Mike
5. Never Can Say Goodbye – Quinn
6. Human Nature/ Nature Boy – mash-up of MJ and Nat King Cole – Mercedes & Sam
7. Smooth Criminal – Santana & Sebastian (with special appearance performance by 2Cellos)
8. Ben – Finn, Rachel & Kurt
9. I Just Can't Stop Loving You – Finn & Rachel
10. Black or White – Artie, Rachel, Kurt, Mercedes, Santana and the group
So what do you think of the song list? Frankly, I'm kind of disappointed that they didn't pick "Billie Jean" or "Beat It". Listen to all of the songs below and watch the full (awesome) performance of "Smooth Criminal". Tune into a new episode of Glee on Tuesday, January 31 at 8:00 p.m. EST on Fox.