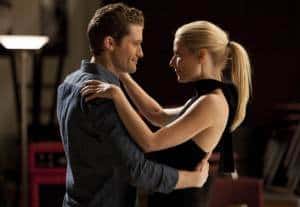 Gwyneth Paltrow and John Stamos will both be making guest appearances on the March 8 new episode of Glee (which is set to run an extra minute long, so adjust those PVRs!).
This time Holly Holliday (Paltrow) will be filling in for the sex-ed teacher. So she and Mr. Schuester team up to teach the glee kids about the "facts of life", a lesson I'm sure Quinn already knows. Expect to hear the class sing Prince's "Kiss". Emma will also be doing a performance with some of the glee club girls.
In counter-point, Emma chooses to head up the Celibacy Club, which forces her and her husband, Carl, to address some personal issues. It also appears that Emma is a little jealous of Holly and her budding relationship with Will.
Below are promo photos for the upcoming episode from FOX, as well as a trailer. It looks like Mr. Schue and Holly will be growing closer. Kurt and Blaine will also be making an appearance in the episode. Don't miss an all new episode of Glee on March 10.
[imagebrowser id=908 template = flipped]
clarissa @ tvovermind.com
twitter.com/clarissa373
twitter.com/tvovermind