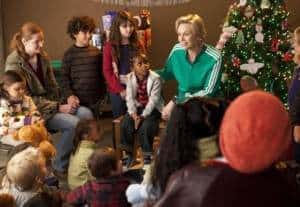 Sectionals came to Glee again in this week's episode. The glee club and the Troubletones faced off at the competition. But before they took the stage, there were quite a few developments. First, Quinn spilled the beans to Rachel that Shelby had slept with Puck and she wanted to use that information to get Shelby fired and get her daughter back. Rachel cautioned her against revealing that information, saying it was the wrong thing to do (especially taking Beth from her adoptive mother). Quinn decided to do the right thing and not ruin Shelby's career.
The glee club was worried about their chances of winning Sectionals and Finn realized they were in trouble. So he and Rachel headed out to bring back Sam. They found him working in a strip club, but his parents sent him back to McKinley with their blessing. He's determined to get Mercedes back, but he also jumped right back into the glee club.
The Troubletones performed a great mash-up of "I Will Survive" and "Survivor" at Sectionals, while the glee club did three Jackson family songs: "ABC", "Control" and "Man in the Mirror". Tina urged Mike's father to let his son pursue his dream and although he was resistant to the idea, he came to Sectionals and decided to support Mike's dance career. In the end, the Troubletones took second place, while New Directions won Sectionals. Quinn also reached out to the Troubletones and convinced them to rejoin the glee club.
A special Christmas episode of Glee will be airing on December 13. The glee club finds itself stretched thin when it's booked for two events on the same date. Sam will also be appearing in this episode.
Watch a trailer for the December 13 episode of Glee below.
Listen to five songs from the Christmas episode of Glee here.