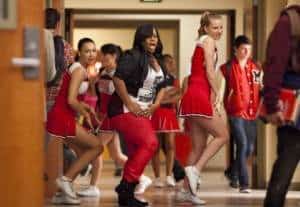 Matt Bomer dropped by this week's Glee for a fun guest appearance as Blaine's older brother, Cooper Anderson. A moderately successful actor, Cooper was constantly critical of Blaine, which prompted Blaine to sing out all of his frustration, of course.
Meanwhile, we learned the outcome of Quinn's accident: her spine was compressed and she's now in a wheelchair. She indicated that she has some feeling in her lower body and hopes that with enough physical therapy she might make a full recovery. Until then, she has Artie to school her about life in a wheelchair. But Artie was trying hard to get Quinn used to living the rest of her life in a wheelchair in case it comes to that, although that's not a lesson she really wants to learn right now.
Sue also learned that she was having a daughter, but also found out that her fetus had some irregularities.
On April 17, Glee goes back to the 1970s to honor the disco period, complete with multiple tributes to the Bee Gees.
Watch a preview below for the April 17th episode of Glee, airing at 8:00 p.m. ET/PT on Fox.