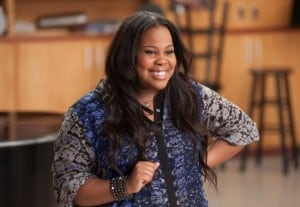 Mercedes is returning to McKinley High in this week's Glee and it's not a moment too soon, because the members of New Directions will be taking on the music of Stevie Wonder and who better to show them how it's done than the lady with the powerhouse voice?
Katy Segal will also be making a guest appearance as Artie's mother when he receives news that could affect both him and his mom. And another parent is making an appearance:Â Burt Hummel. Blaine surprises Burt with an announcement that he would like to propose to his son, leading to some ring shopping in an upcoming episode. Will these two crazy kids get engaged?!
In New York, Rachel is preparing for her Funny Girl callback, but Cassandra July returns to rain on her parade.
Watch a preview below for the May 2 episode of Glee on Fox.
http://youtu.be/CiDdAzkSoJM