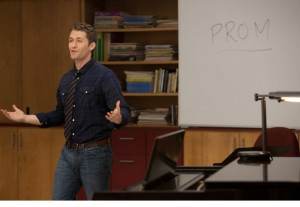 I thought that having the talented Glee kids sing Rebecca Black's song "Friday" (as opposed to Rebecca who, although I'm sure is a nice girl, did not sing well in that video) would make a difference in terms of my enjoyment of the song.
Sadly, it didn't. I still wanted to cover my ears.
The May 10 episode of Glee features the McKinley High prom. The prom queen competition finally comes to a head (with the identity of who wins having been leaked a while ago). Jonathan Groff returns as Jesse St. James, although the reason why – and whether he can be trusted – is still not yet known. And the glee club kids perform at prom after the entertainment falls through.
Below are the full tracks for several songs that will be sung during the episode:
Rebecca Black's "Friday" – Puck, Sam and Artie
John Legend's "Rolling in the Deep" – Jesse and Rachel"
Stevie Wonder's "Isn't She Lovely?" – Artie
ABBA's "Dancing Queen" – Mercedes and Santana
Black Kid's "I'm Not Gonna Teach Your Boyfriend How to Dance with You" – Blaine, Brittany and Tina
Christina Perri's "Jar of Hearts" – Rachel
You can view a trailer for the May 10 episode of Glee here.
(P.S. Personally, my favorite version of "Friday" was done by Stephen Colbert and Jimmy Fallon, because it was also funny. Watch it here).
clarissa @ tvovermind.com
twitter.com/clarissa373
twitter.com/tvovermind