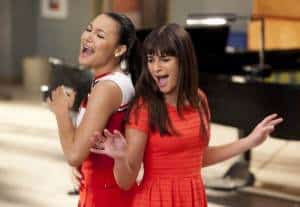 Glee is paying tribute to Whitney Houston in this week's episode. Last week the McKinley High glee club did a disco-themed episode, singing everything from the Bee Gees to KC and the Sunshine Band as the kids strutted their stuff in white disco suits. This week, the show is honoring the recently deceased singer.
Naya Rivera explains that the episode is also "helping us cope with the fact that we are graduating and things will be different." The students aren't the only ones having trouble imagining life after high school. It seems that the adults in their lives are also having trouble letting go. The song list for the episode includes:
-"How Will I Know"
-"I Wanna Dance with Somebody (Who Loves Me)"
-"Saving All My Love for You"
-"So Emotional"
-"It's Not Right but It's Okay"
-"I Have Nothing"
-"My Love Is Your Love"
Below is a terrific performance by Rachel, Britney, Kurt and Mercedes of "How Will I Know", followed by the full length versions of the other songs. In addition, Fox has put together a behind the scenes sneak peek.
Don't miss an all new episode of Glee on April 24 at 8:00 p.m. ET/PT on Fox.