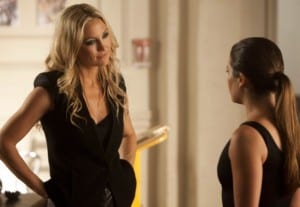 The fourth season premiere of Glee is titled "The New Rachel", but it's clear that Rachel's life isn't the only one that's changing.  She'll be in New York City, attending NYADA, but she's in for a rude awakening.  While she was a big star back in Lima, Ohio, there's no shortage of people (particularly the dance teacher played by Kate Hudson) who are happy to show her that she's not a small fish in a big pond.
Back home at McKinley, Will needs to recruit new members into the glee club.  Enter characters like Puck's brother and a new student named Marley.  Can Will  mold the new group (with a few members of the old group still sticking around) into a championship glee club once again?  Meanwhile, we'll hopefully check in with other former members of the glee club to find out what's been happening with them.  Of course, the biggest question still looms: where is Finn?
Watch a preview for the new season here.