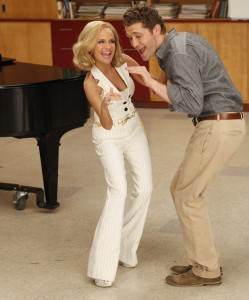 A Fleetwood Mac-inspired episode of Glee will be airing tonight. We've posted six of the Fleetwood Mac songs that will be sung in the episode (listen to them here), as well as a promo for the episode (view it here).
April Rhodes returns with the news that she's written her own Broadway musical after her last one flopped. She asks Mr. Schue if she can borrow his auditorium and for his help.
Sue, meanwhile, brings back the school newspaper, and staffs it with Jacob, Brittany, some of the football players and a few other students. She decides to encourage her writers to produce blind items. In doing this, she spreads rumors along the gossip mill at the school.
Below we have four sneak peeks for tonight's episode of Glee. In the first video, April returns to talk to Will. The second video features Rachel singing "Go Your Own Way", with some hints that she's not ready to give up on Finn. In the third video Sue gives the newspaper staff the lowdown on the types of stories she wants them to write. The fourth video shows a talk show hosted by Brittany called "Fondue for Two", with Mercedes and Tina as her guests. She, unfortunately, lets a secret about Santana slip.
clarissa @ tvovermind.com
twitter.com/clarissa373
twitter.com/tvovermind