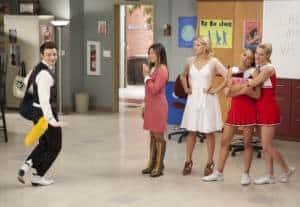 Glee has been on hiatus for a week, but an all new episode will be airing on November 29. The last episode saw the glee club and the Troubletones squaring off in what Will and Shelby called some "friendly competition". But the kids – particularly Santana – didn't find anything friendly about the competition. Our favorite mean girl cheerleader spent the episode harassing the glee club members and targeting Finn in particular. After one too many insults, he finally cracked and shot back. He told her that the reason she is so nasty to people is because she's hiding her love for Brittany and is afraid to come out of the closet.
Unfortunately, Santana's lesbianism was later used by one of Sue's competitors in a congressional attack ad, which prompted Santana to slap Finn for exposing the news to everyone.
Puck also confessed his feelings for Shelby and also told her about Quinn's plans to get their daughter back. While Quinn seemed happy to continue playing along (even asking Shelby if she could join the Troubletones), the teacher firmly told Quinn she no longer has a place in Beth's life.
The November 29 episode of Glee is all about dealing with the fallout from the reveal about Sanatana's "secret". After Finn stops Principal Figgins from suspending Santana, he tells her that she and the Troubletones should join the glee club so they can compete at Sectionals. And he encourages the girls to sing songs "by women, for women". Even Coach Bieste gets in on the singing action, doing a performance of "Jolene".
The songs for the episode include:
-"I Kissed a Girl" by Katy Perry
-"Constant Craving" by k.d. lang
-"Jolene" by Dolly Parton
-"Girls Just Want to Have Fun" by Cyndi Lauper
-"I'm the Only One" by Melissa Etheridge
Below are full versions of the songs for the November 29 episode of Glee. You can also view a sneak peek (including the full performance of "I Kissed a Girl") here and a promo for the episode here.