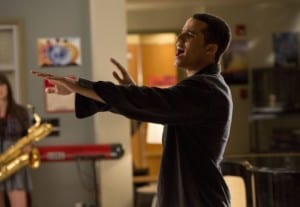 This week's Glee assignment finds New Directions having to confess their guilty pleasures…their musical guilty pleasures. The glee club kids are forced to sing the songs that they're embarassed to love and the song list is a pretty awesome trip down the lane of 'dirty little secrets'. Meanwhile, in New York, Santana has discovered Brody's dirty little secret, but will she tell Rachel?
You can listen to the songs for this week's Glee below. The song list includes:
-"Wake Me Up Before You Go-Go", Wham (sung by Blaine and Sam)
-"Copacabana", Barry Manilow (sung by Sam)
-"Against All Odds (Take a Look at Me Now)", Phil Collins (sung by Blaine)
-"Wannabe", Spice Girls (sung by the New Directions ladies)
-"My Prerogative", Bobby Brown (sung by Jake)
-"Creep", Radiohead (sung by Brody and Rachel)
-"Mamma Mia", Abba (group song)
Don't miss an all new episode of Glee on March 21 on Fox. Â You can also watch a preview and browse through photos for the episode here.