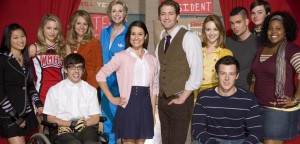 Congratulations to Glee, which took home the Golden Globe for Best Musical/Comedy on Sunday! It totally deserved it and wait till you hear what's in store for the show when it finally returns from its interminable hiatus in April.
First, expect A LOT of guest stars. Big name ones. Like Jennifer Lopez, for example. She and the producers are in talk for a guest spot for J-Lo as – of all things – a cafeteria workers. According to E!Online, executive producer Brad Falchuk says:
"Discussions are ongoing and we haven't gotten into the episode(s) she'd be appearing in."
That's not all. Neil Patrick Harris, everyone's favorite awards show host and evil genius is also in the home stretch of finalizing a guest spot. NPH won't just be appearing in any old episode though. Rumour has it he's in talks to appear in the Joss Whedon-directed episode set for this spring. EW reports:
Harris wants to do it, and Glee creator Ryan Murphy sure as hell wants him to – he's creating a role especially for the How I Met Your Motherscene-stealer. And yes, the part includes a little song-'n'-dance. In fact, the gig not only would reunite Harris with Whedon, it'd also reteam him with Zachary Woodlee, who choreographed the musical number in HIMYM's recent 100th episode.

The one possible snag – and there's always one, isn't there? CBS has to OK its MVP's appearance on Fox's breakout hit. But at least since HIMYM and Glee are both produced by 20th Century Fox, there's no conflict on their end.
NPH appearing on Glee makes me happy, especially if he's reunited with his Dr. Horrible director. Even Jennifer Lopez gets me kind of excited. She was pretty funny during her short cameo in Will and Grace. Also, expect Grease star Olivia Newton John to be making an appearance. EW's Ausiello spoke to creator Ryan Murphy who said:
'We got Olivia [Newton-John],'he recounts. 'She's going to come on and do '˜Physical'with Jane Lynch
But that's not all. Expect some character hook-ups in coming episodes. Producers were so surprised by the fans' favorable response to Rachel and Puck that they're going to be bringing them back together. Murphy told Ausiello:
'I was really surprised [viewers responded so favorably to that pairing],'he says. 'I thought people would find her to be far too irritating for him. But by the time [we heard that feedback], we had already shot the first 13 [episodes]. But because I read that – in your column, actually, so you get the blame – I was like, '˜I'm going to get them together in some way.'So we just finished [writing] a special episode where they are together, and they have two numbers together. It's episode 4, '˜Bad Reputation."
With Glee now renewed for a second season, the producers are also out looking for new characters – one of which is set to be Kurt's boyfriend. Murphy says:
'We just announced we're doing a nationwide search for the season 2 cast, and [a boyfriend for Kurt is] one of the three roles that we're adding. And we're going to make them a power couple. We're not going to do the whole hiding in the shadows thing. We're going to make them popular, and out and proud and glamorous. Like prom king and king. We're doing the opposite of what's been done.'But wait, there's more: 'We're also casting sort of a Eve Harrington [from All About Eve] to kind of steal Rachel's thunder a little. So those are two of the three.'
Email: clarissa @ tvovermind.com
Follow: twitter.com/clarissa373