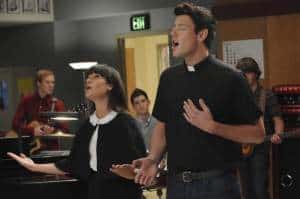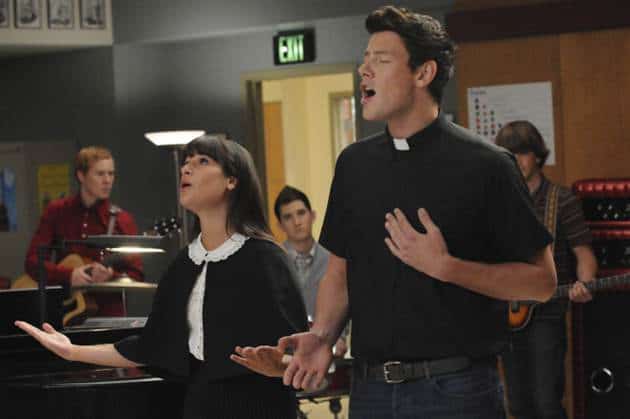 It's been a while since we've posted some new Glee news, which is actually kind of a nice break since I couldn't stop posting about Darren Criss after he joined the show. Glee is currently on hiatus until it makes its triumphant return after the Superbowl on February 6. We know the episode won't be devoted to only one singer, which might actually be a good thing (see: Britney Spears episode), and now we have a few more details.
Zap2it is reporting that Rachel and Puck will be singing a duet to Lady Antebellum's "Need You Now". In addition, the big episode almost didn't include Chris Colfer (Kurt) or Darren Criss (Blaine). Colfer recently told TV Line that the original script didn't include either character. In fact, since Kurt transferred to Dalton Academy, we've only caught a few glimpses of him and Colfer has admitted that he feels more like a guest star on the show now.
Kurt was one of my favorite characters, so I'm not happy about the small amount of exposure that he's gotten lately. And his appearance in the Super Bowl episode will be extremely short. But Perez Hilton is reporting that a big scene might be taking place during the Valentine's Day episode between Kurt and Blaine, where Kurt admits his feelings to Blaine. Right now this is unconfirmed, but I'm still hoping they'll find more of a way to tie those two characters back into the main storyline.
As for other relationships – potentially or otherwise – those of you who have high hopes that Rachel and Finn will reunite after their recent breakup are probably going to be disappointed. TV Line is also reporting that they will not be getting back together anytime soon. In fact, Finn will soon have his eye on another lady. But Puck's "seven minutes in heaven" with new glee member Lauren will be featured in the Valentine's Day episode. Will this lead to a new couple?
clarissa @ tvovermind.com
twitter.com/clarissa373
twitter.com/tvovermind