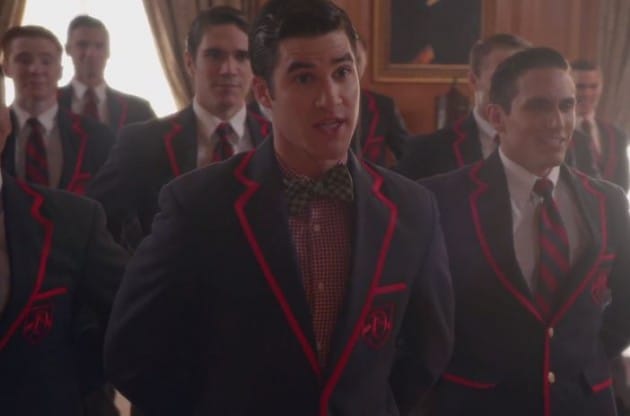 In a little less than two weeks, Glee will begin its sixth and final season, and even though we had gotten some information on how exactly the FOX musical series' final chapter will kick off, we now have our first official look at the Season 6 premiere thanks to Glee's music producer Adam Anders, who shared one of the episode's big musical performances on Twitter today. In the video, we see Blaine (Darren Criss), as the new coach of The Warblers, leading the Dalton Academy glee club in a performance of Ed Sheeran's hit song "Sing" with Lea Michele's Rachel also in attendance, watching the entire performance in awe.
And in case you were wondering, even though it's been a while since we were at Dalton, things haven't changed. There's still plenty of overhead shots of members of The Warblers doing ridiculously over-the-top dance moves, and just like how they tried to bring that one teacher into their performance of "Uptown Girl," they again try to pull Rachel into the musical number–she politely sits down, though. The whole sequence feels very much like the first and second seasons of Glee, which makes sense since the show is trying to get back to its roots with both its setting (hence the return to Lima) and its characters for its final season.
Glee returns for Season 6 with a two-hour premiere on Friday, Jan. 9, at 8 p.m. before moving into its regular 9 p.m. time slot the following week. Watch Blaine and The Warblers' performance of "Sing" below.
Happy Monday #GLEEKS, here's a full performance of "Sing" by @edsheeran from the @GLEEonFOX season premiere! https://t.co/kONoxjHfi2

– Adam Anders (@AdamAnders) December 29, 2014
Photo via YouTube