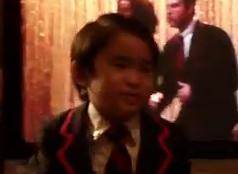 Here's a perfect way to round out the week. Glee's Mini Warbler (a.k.a. Kellen Mirador Sarmiento) has struck again. A new video of Kellen performing has hit his parents' YouTube page.
This time the wee tyke has decided to impersonate Darren Criss and the other Warblers singing "Raise Your Glass", which was performed during the Regionals episode of Glee season 2 and also appears on the recently released Warblers CD.
It's still ridiculous how adorable this child is, bopping around in his mini blazer and throwing his hands in the air. I honestly can't stand it. His first performance to "Teenage Dream" (view it here) scored over 1.8 million views, proving that the kid is a current internet sensation. And why not? I'm impressed this kid has the routine and song memorized, so he deserves the fame. Check out the latest performance of Glee's Mini Warbler below.
clarissa @ tvovermind.com
twitter.com/clarissa373
twitter.com/tvovermind