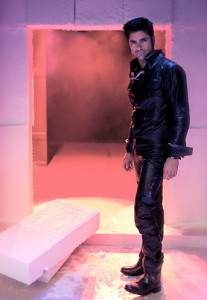 I've been a bit frustrated with Glee after the season 2 premiere (which I really liked). But we won't get into the reasons here. After taking a look at photos and videos from the upcoming "Rocky Horror Picture Show" episode, however, I feel like my faith in the show will be restored.
This special Halloween episode is set to air on October 26 and the kids will be putting on a play of the original film:
GLEE (8:00-9:00 PM ET/PT) — 'The Rocky Horror Glee Show'

Will (Matthew Morrison) decides to have the glee club perform 'The Rocky Horror Show'for the annual school musical after learning of Emma's (Jayma Mays) newfound love for the cult classic. Despite Sue's (Jane Lynch) usual scheming, the members of New Directions inject their distinctive style to such timeless tracks as 'The Time Warp'and 'Damn It, Janet.'
Awesome, unexpected news? Guest star John Stamos will be stepping into the Meatloaf role from the film and singing. A longer list of songs reveals the following: "Science Fiction Double Feature," "Damn It, Janet," "Whatever Happened To Saturday Night?," "Sweet Transvestite," "Touch A Touch A Touch A Touch Me," "There's A Light (Over at Frankenstein Place)" and "Time Warp." The soundtrack will be released on October 18 for those of you who can't wait.
Check out some photos below of cast members in their various costumes, as well as some trailers for the episode.
[imagebrowser id=685 template = flipped]
clarissa @ tvovermind.com
twitter.com/clarissa373