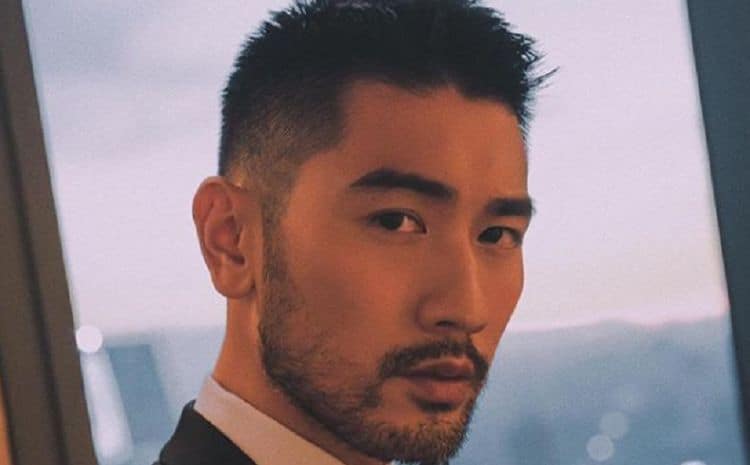 It's interesting to see who's coming up through the ranks with each passing year as the diversity in Hollywood is hopefully remaining pleasantly mixed so that more and more actors from other countries and cultures are being allowed to shine. Godfrey Gao is one of those that seems to have the look of someone that could be big if he got the right push, and to be honest he's already built and impressive career that could very well be the solid base he needs to be a breakout star. Sometimes it takes years, even decades, to become the kind of star that people look up to, though a lot of people don't want to wait that long. It seems though that if you produce a good fanbase and work from there you might be on the right track towards becoming a successful and well-renowned celebrity, and that kind of fame can't always be bought.
Here are a few things you might not have known about Godfrey.
10. He's a tall man.
He stands around 6'3″ so he's not small by any regard. In fact this should help to debunk the rumor that so many Asians are small people. A lot of those from Asian countries do appear to be average or slightly above average height, but he's a tall man by just about any standard.
9. He was in Mortal Instruments: City of Bones.
This movie didn't really receive that great of a reception despite the fact that it had so many elements that could have made it great. The problem it seems is that by smashing all the different elements together it left the audience feeling kind of anxious since the filmmaker didn't seem to know what to do with all of them at once.
8. He's 34 years old.
He's reaching his middle years but is still young enough to keep himself busy and find new roles that will appeal to his style of acting. After all most actors keep going for decades after they hit 30 and some of them are still around.
7. He's been a model.
Gao definitely has the bearing of someone that's been in front of people for a while and is completely at ease. Listening to him talk however it also would seem that he's a very down to earth person that finds his comfort zone and can stick to it when he needs to.
6. He did the voice-over role for Ken in Toy Story 3, the Taiwan release.
People sometimes forget that when a movie is released internationally the same voices they hear in their own country won't be what's used in other countries. Various voice actors will be called in to voice the roles so that folks in those other countries will be able to understand them. Subtitles are great but aren't always desired.
5. He has an impressive resume.
He's spread his work out fairly evenly between TV and movies and has amassed a rather good number of credits given the amount of time he's been working. Some might say that in that span of time it's only expected that an actor make so many movies or star in so many shows, but Godfrey has been a busy man.
4. His career started in 2004.
Going by this he started out in the business when he was 20 years old, which seems like it might be an optimal age since one's schooling is behind them, or at the very least high school is over and secondary education might be a possibility. But given his direction it might be that school wasn't a huge priority since he's been doing quite well for himself since he started.
3. He was born in Taiwan but raised in Canada.
It is interesting to take a look at the origins of people and figure out where they started off and how they came to be where they are now. There's not a lot of information on this for Godfrey save that he was born in one place and raised in the other.
2. He was the first Asian model to be signed on by Louis Vuitton.
Being the first of anything is usually pretty special since it means that you get to start a trend with something that might become the norm sooner or later. In the modeling world starting any trend might seem like it's bound to be noticed and then forgotten but it's still enough to be there in the beginning of something.
1. He has a very impressive following on social media.
Godfrey has well over four hundred thousand followers on social media so you know he's doing something right, or interesting, or both. The only wonder at this point is if the majority of his followers are those that have noticed his modeling or his acting. Perhaps it doesn't matter since either way he's quite popular.
It will be interesting to see how his career goes in the years to come.