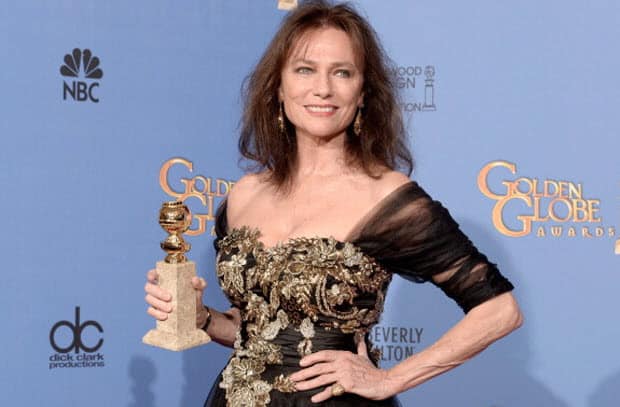 There weren't too many bizarre or unscripted moments last night at the Golden Globes worth mentioning, but today everyone seems to be talking about Jacqueline Bisset's brief moment in the spotlight. The 69 year old actress won a Golden Globes for her work in Dancing on the Edge, and her speech was one of the most memorable moments of the evening.
It took Bisset a long while to get started, as she was visibly emotional and couldn't seem to form words. She seemed like she genuinely had no idea she would win, and given her competition like Sofia Vergara, that was probably a safe bet. But she did. Unfortunately, it seemed like it was all a bit too much for her.
She stopped and started, mixing up words and phrases, and was so rambly she even managed to slip an expletive past the censors. It seemed like she did have a speech prepared, but everything sort of went to haywire in her mind when she actually won, and the moment pretty much swallowed her up.
When in doubt, bring a sheet of paper. No one does this, but it would save you from headlines like these.
[Photo via Kevin Winter/Getty]