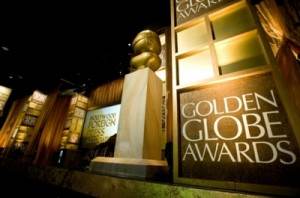 Let's forget about the travesty that was the People's Choice Awards. Bad jokes and uninterested stars made for a very painful night. But tonight is the Golden Globe Awards, hosted by British comedian Ricky Gervais, who I always enjoy. The Globes aren't as stuffy as the Oscars can be, and also aren't as geared towards the "artsy" choices for winners. This year, new cables series The Walking Dead and Boardwalk Empire both scored Best Drama nominations. There weren't a lot of surprises in terms of nominations – Glee still gained nominations for the show, for Lea Michele, Chris Colfer and Matthew Morrison, despite the fact that the FOX series hasn't been as strong since it returned for its second season.
Surprisingly, Piper Perabo earned a nomination for Best Actress in a Drama Series for her work on Covert Affairs, and Jennifer Love Hewitt was nominated in the Best Actress in a Mini-Series category for The Client List. If you'd like to read a full list of the television awards nominations, click here.
We'll be doing a live blog here tonight, for the television and movie categories, and the show in general. Here's hoping there's a few fun moments and a few risque jokes by host Ricky Gervais. Tomorrow we'll bring you an article about the fashion of the Golden Globes, because we know everyone just watches to check out what the ladies are wearing – and insult them if necessary.
Stay tuned, the live blog will begin at 8:00 p.m. EST. Keep refreshing your page for more updates.
8:00 – I love that Ricky Gervais has a drink on the podium and immediately slams Charlie Sheen and his drunken antics AND Angelina Jolie while she's sitting right there. Because that's how he rolls. And Depp looks kind of pissed off about the insults towards The Tourist.
8:05 – Best Supporting Actor in a Movie is up first. Christian Bale – deservedly – wins for his role in The Fighter. I sincerely hope his long hair and horrible beard aren't for the next Batman movie. His acceptance speech is amusing, with just a hint of self-praise.
8:10 – Best Actress in a TV Show is presented by Modern Family's Julie Bowen and NCIS Los Angeles' LL Cool J. The winner is Katey Segal from Sons of Anarchy. I don't watch the show, but I hear that this award is deserved by Segal, who does excellent work on that show. She hasn't been nominated since Married With Children.
8:12 – I feel like they're really not giving the winners enough time for their acceptance speeches. It seems like the allotted time is shorter this year. Or is that just me?
8:16 – Julianne Moore (in a horrible dress) and Kevin Spacey introduce Miss Golden Globe and are up to present Best Mini-Series or Television Movie. Carlos, the mini-series based on assassin Carlos the Jackal, is the winner.
8:20 – None of the winners seem to care that they're talking well into the "get the hell off the stage" music.
8:22 – Bruce Willis is a funny guy who knows how to take a joke lobbied at him (Gervais introduced him as Ashton Kutcher's dad). He introduced RED, which is nominated for Best Comedy Movie. I really enjoyed RED and thought it was funny.
8:23 – Best Supporting Actor for TV Series or Mini-Series is up next. Leighton Meester needs to never wear that dress ever again, because she carried her train up to the podium and her legs were sticking out of the split in the middle and it looked horrendous. Chris Colfer from Glee wins and looks totally shocked, but the rest of his cast members look thrilled for him. Lea Michele is basically sobbing for him back at the Glee table. While the quality of Glee has been incredibly uneven in its second season, Colfer has been consistently good in his role, even if parts of his storyline seemed a bit forced. His acceptance speech was great – he was genuinely surprised and humbled.
8:30 – Michelle Pfeiffer is up to present Alice in Wonderland. That woman never ages.
8:31 – Eva Longoria announces the president of the Hollywood Foreign Press Association. Her dress is interesting – with copious amounts of cleavage.
8:33 – Mila Jovovich and Kevin Bacon are up to present Best Actor for a Dramatic Television Series. Steve Buscemi wins for Boardwalk Empire.
8:37 – Mila and Kevin return to present Best TV Series Drama. The winner is Boardwalk Empire.
8:43 – Andrew Garfield is up to announce The Social Network. He's incredibly nervous and stumbles over his words. He was fantastic in the movie and I'm looking forward to seeing him in the new Spiderman movie.
8:45 – Alec Baldin and Jennifer Lopez are up to present Best Original Song. Baldwin can make even a lame joke sound amusing, but Lopez is not so good with the comedy. The winner is "You Haven't Seen the Last of Me" from Burlesque (sung by Cher).
8:49 – Baldwin and Lopez stick around to present Best Original Score. Trent Reznor and Atticus Ross win for The Social Network. I love The Social Network, but I loved the score from Inception.
8:55 – Haley Steinwell and Justin Beiber are up to present Best Animated Movie. Winner is Toy Story 3.
8:59 – Gervais introduces Robert Downey Jr. and remarks that most of his films sound like porn film names. Downey is another guy who can take a cheap shot lobbed at him. I would love to see Downey host an awards show. He presents the award for Best Actress in a Movie – Comedy or Musical to Anette Bening for The Kids Are Alright. I notice the orchestra didn't start their "get off the stage" music during Bening's speech. Because you don't pull that kind of crap with Anette Bening. She's too classy to be rushed.
9:09 – Sylvester Stalone is up to introduce The Fighter, which was a great movie.
9:10 – Geoffrey Rush and Tilda Swinton (in the most ridiculous dress in the room, as usual) are up to announce Best Actor in a Mini-Series or TV Movie. The winner is Al Pacino in You Don't Know Jack.
9:15 – Rush and Swinton are back to announce Best Actress in a Mini-Series or TV Movie. The winner is Claire Dances for Temple Grandin. Apparently Danes hasn't won a Golden Globe since My So-Called Life.
9:23 – Zac Efron is on stage to introduce The Kids Are Alright. I still lament the loss of his pretty, pretty hair.
9:24 – Gervais introduces Tina Fey and Steve Carell. They're up to present Best Motion Picture Screenplay and their presentation speech is very amusing. Just behind Downey's in terms of funny. The winner is Aaron Sorkin for The Social Network. Probably the least surprising win of the night. For such a fantastic writer, Sorkin's not a great public speaker. He 'uh uh's a lot.
9:29 – Chris Hemsworth and Chris Evans are up to present Best Supporting Actress in a Series, Mini-Series or Movie. Jane Lynch wins for Glee.
9:36 – Olivia Wilde and Robert Pattinson are up to pronounce Best Foreign Language Film. In a Better World from Denmark is the winner.
9:38 – Helen Mirren graces the stage to introduce The King's Speech, which was a wonderful movie.
9:40 – Vanessa Williams and Blair Underwood arrive on stage to present Best Actress in a TV Series – Comedy or Musical. Laura Linney wins for The Big C. Since she's not there to accept the award, it's literally the shortest presentation ever.
9:46 – Jane Fonda is on stage to introduce Burlesque.
9:48 – Best Actor in a TV Series, Comedy or Musical is up next. The winner is Jim Parsons for The Big Bang Theory.
9:50 – Jeremy Irons comes on stage to present Best Supporting Actress in a Movie. I can't wait for his new series The Borgias (on Showtime). I think it's going to be fantastic. But back to the Globes….the winner is Melissa Leo in The Fighter. I think Melissa was fantastic, but I can't help but be a little sad that Helena Bonham Carter didn't win. She played so against type (ie. crazy) in The King's Speech and I really enjoyed her portrayal of the Queen Mother.
9:58 – Matt Damon is on stage to present the Cecile B. DeMille Award to Robert DeNiro.
10:14 – Annette Bening arrives on stage to present Best Director – Motion Picture. The winner is David Fincher for The Social Network. Considering the brilliantness and complexity of the story in Inception, I'm very sad Chris Nolan didn't win for Inception.
10:17 – Jimmy Fallon and January Jones (and her bandage dress) arrives on stage to present TV Series – Comedy or Musical. Glee is the winner.
10:23 – Alicia Keys (who is a beautiful woman inexplicitly dressed in what looks like a drape) comes in the stage to introduce Black Swan.
10:25 – Halle Berry presents the Best Actor for a Movie award to Paul Giamatti for Barney's Version. Giamatti is a class act and gave an charming acceptance speech.
10:34 – After Joseph Gordon Levitt introduced Inception, Jeff Bridges came on stage to present Natalie Portman with the Best Actress in a Motion Picture Movie award for Black Swan.
10:39 – Tom Hanks and Tim Allen take the stage to take a few cheap shots at the audience (amusing) and present the Best Motion Picture – Comedy or Musical to The Kids Are Alright.
10:46 – Sandra Bullock (in a dress that is undeserving of her beauty) comes on stage to present the Best Actor in a Drama Movie to Colin Firth for The King's Speech. Colin deserved this award, if only so we could hear his wonderful accent and classy acceptance speech.
10:52 – We're in the final stretch of the show and I feel like we haven't really seen host Ricky Gervais much, which might be what the producers wanted since he doesn't seem to be pulling any punches tonight (which I rather like). Michael Douglas (who's recently announced that he's been given a clean bill of health) arrives on stage to present the final award. Best Movie – Drama goes – unsurprisingly – to The Social Network, which has done extremely well in the Globes and is probably poised to do as well in the Oscars.
And that's it, folks! The 2011 Globes are over. For the complete list of winners, click here.