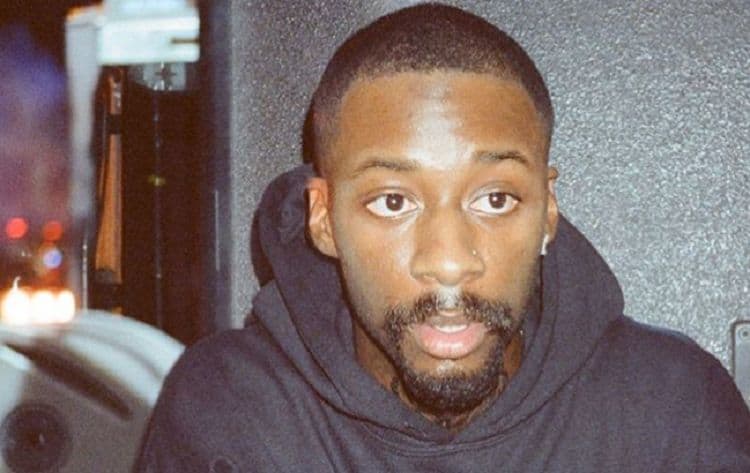 D'Anthony Carlos, better known by his stage name of Goldlink, has been hitting the news hard lately, and not necessarily for the best of reasons. Since sharing an open letter on social media to late rapper Mac Miller, Goldlink has come under fire from all sides, with Grammy award-winning musician Anderson .Paak, leading the pack. Goldlink has responded to the subsequent coverage by saying he's been misrepresented — regardless of how true that is, it's going to take a while before the storm blows over. Find out more about the rapper with these ten little facts.
1. He's got some sound advice for his fans
Ask Goldlink what his advice to fans would be, and the message is clear- stay true to yourself. "Be so good at what you do and be so confident in your craft that you don't let anybody tell you otherwise," he told Hype Beast. "It's easy to get caught up in trends, to get swayed. It's very easy to be like, "Alright, so-and-so has these many fans, so I've got to go do what so-and-so does." Stay true to what you do. People will respect you, and that's what lasts longer. Take the slow road, don't take the fast road. That's what I would tell anybody in life."
2. He's not politically engaged
Living just a few streets down from the White House doesn't mean the DC born rapper has any political aspirations of his own. Although he's not without a social conscience, Goldlink doesn't feel the problems he sees in his community are likely to change depending on who's in charge of the oval office. "It's not that I just don't care, but it's more like, I'm black, I'm from America, from the ghetto,' he expanded to GQ. "We had a black president, same problems, a white president, same problems. Whoever's president doesn't really matter because in the black community we have way deeper problems than what's going on in political office".
3. He refuses to be pigeonholed
Ever since he broke onto the scene with his 2013 mixtape, The God Complex, Goldlink has point-blank refused to be confined to one genre. "It's just taking the essence of what we fell in love with: '80s rap, '90s rap and making it our own," he's explained to Vibe about his style. "[Our generation] we got the TRL Top 10, we got BET 106 & Park, but we didn't have to only listen to that. Downloading bootleg music was on fire, like Limewire and Napster. Do you know what I'm saying? We grew up so genre-less in some way. So for me, it was like how can I put together those things and all the things that I like?"
4. He's a two-time Grammy award nominee
Ever since Goldlink exploded onto the scene with his unique, genre-bending style of hip hop and electronica, critics have been falling over themselves to heap praise at his feet. While he's yet to come home from awards night with a trophy, he's already racked up a serious amount of nominations, including two Grammy nominations for Best Rap/Sung Performance (the first for "Crew" (with Brent Faiyaz and Shy Glizzy) in 2018, and the second for "Like I Do" (with Christina Aguilera) in 2019), a iHeartRadio Music Award nomination for Best New Hip-Hop Artist, and a BET Award nomination for Best New Artist (both 2018).
5. His proudest moment was making Barak Obama's summer playlist
He might not class himself as political, but that didn't stop Goldlink puffing up his chest when he heard he'd made it to a certain former president's annual list of favorite tracks. "Making Barack Obama's summer playlist was quite a beautiful moment," he shared with MSN.
6. He's punk
Anyone who's ever listened to Goldlink knows that confirming just isn't in his make-up. The rapper confirmed as much during an interview with Hypebeast, in which he explained: "For me, punk is just not conforming, not compromising or agreeing with the system and dressing to rebel against it." That's what I do, I really genuinely do that."
7. Diaspora was inspired by the idea of universal blackness
Diaspora, Goldlink's critically acclaimed debut album, was, according to its mastermind, inspired by the idea of universal blackness. "I wanted to create a bridge between cultures around the world. It's important because we're 6-8 generations removed from where we started from. It's about time we turn around and bridge that gap before it becomes 15-17 generations removed, and we have to do the work of interconnectivity before it's too late,' he said in an interview on Spotify.
8. He's described his sound as future bounce
Critics may struggle to pigeonhole Goldlink's eclectic mix of hip-hop, electronica, and R&B, but the genre-hopping star has come up with his own name for his sound, "Future bounce'. "Future bounce is still yet undefined, but I like to look at it as an up-tempo bouncy sound with a very nostalgic feeling backed behind it," he told Complex. "Imagine Montell Jordan's 'This is how we do it' on crack".
9. He started a social media storm
In the Fall of 2015, Goldlink supported Mac Miller on the latter's GO:OD AM Tour. A little over a year after the untimely death of the Pennsylvania rapper, Goldlink decided the time was ripe to reflect on their friendship with a lengthy post on social media. Despite complimenting his late friend's musical talents, there was also a very unsubtle implication that Mac had copied the record Divine Feminine from Goldlink's own. The strange tone of the post unsurprisingly drew a huge backlash from Mac's fans, not least singer and rapper Anderson .Paak, who slammed Goldlink for a 'disrespectful, narcissistic, jealous, grossly unnecessary' post.
10. He's backtracked on the beef remarks
Since Anderson .Paak and certain others have weighed in with their thoughts on Goldlink's open letter, Goldlink has gone back on some of the implied suggestions of the letter. At a recent performance in Hamburg, Germany, he took the opportunity to tell fans he'd never claimed Mac had "stolen" his music. "Mac Miller is my best friend in the industry. It wasn't about stealing, I never used the word copy. I never used the word steal," he said. Although Goldlink has since disabled comments, the post is still up on Instagram for anyone who wants to check it out for themselves.