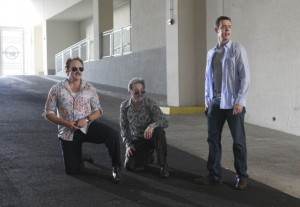 This episode of The Good Guys has the potential to be the best ever. When you have guest stars Gary Cole (Office Space, Entourage), Ethan Suplee (My Name Is Earl), and Rachael Harris (My Boys, The Hangover) to back up Bradley Whitford and Colin Hanks, you just know that the episode that results is going to go down in infamy. Or at least an excuse to needle-drop Wings' 1973 hit "Band On The Run."
Dan is shaving his infamous mustache, so you know things are bad. A day earlier, he and Jack are investigating a robbery at a locksmith's. They're also discussing how Dan is headed to a bar to meet Andy Davis (Suplee), the son of the former governor whom he and Frank Savage (Cole) rescued from kidnappers a quarter-century ago. Andy is not exactly the brightest bulb in the socket, nor is he being entirely honest. He's hanging out with some unsavory types who are supplying him with "a lot of weed" in exchange for taking down Dan. When Jack comes into work the next day, the office is in chaos as Andy's been kidnapped again and Ruiz tells him that Dan is the prime suspect.
Jack calls a nearly comatose Dan to figure out what is going on. Eleven hours earlier, we find out that Dan was knocked out with some Rohypnol courtesy of Andy, and Andy's pothead buddies broke into his trailer and made up the ransom note with his fingerprints on it. He can't be bothered to come into the station, instead electing to become a fugitive while Ruiz unofficially gives Jack permission to try and help his partner.
That night, Jack comes home to find Dan in his bathroom, on the verge of shaving his mustache. While he changes his mind about that, he tries to persuade Jack to come on the run with him, or at least let him crash on his couch. This is the exact moment when Liz shows up on Jack's doorstep. Desperate to get rid of her, he blurts out that he has a date, and it almost works except for Dan doing his best impression of a woman. Liz knows it's him and goes looking for him, but he's fled.
The next day, Jack is interviewing Nicholas Bedard, Andy's dealer. Bedard claims innocence until Jack threatens to take his weed, and then he points the detective toward the two potheads, who are staying with Andy at a shady motel. This time, Jack can't even get to the door before being shot (actually shot, not just shot at) this time. At least it's just in the arm, but the bad guys get away, leaving him clutching the wound.
Frank comes home to find Dan in his house, and he's not happy about it at all. In fact, he beats him with a golf club, but at least they shake hands after. Frank has happily retired and settled down with Cynthia (Harris), and wants no part of any mayhem. Nor does Cynthia want any part of Dan. In fact she's called the cops on him.
Meanwhile, not happy with the fact that he shot Jack, the potheads are hiding Andy in some undisclosed location in Dallas. Literally. When Andy asks where they are, the caption pops up and says "undisclosed location, somewhere in Dallas." Ha. He annoys the potheads so much that they consider shooting him.
Speaking of shooting and being shot, Jack is talking to the police commissioner (the always awesome Barry Shabaka Henley, last seen on FlashForward as Agent Vreede), and then to Liz about how weird this all is. He knows this is all a setup having something to do with the six cases on Liz's docket that Dan was the arresting officer on. He therefore misses it when Dan gets into a standoff with the cops on Frank's front lawn, kidnapping Frank and stealing his car. Once they get away, we find out Frank was in on this all along, just trying to get away from his wife. Color me totally unsurprised, given how good Rachael Harris is at playing shrewish.
Jack can recognize this trick instantly, and he also finds the potheads in Liz's old case files. It's not long before he meets up with Frank and Dan, and they know exactly who they're looking for. They've also found Andy, whose "undisclosed location" happens to be the Cotton Bowl. To the great tune of Thin Lizzy's "The Boys Are Back In Town," they go to rescue him before the potheads can shoot him. Frank and Dan's idea is to get Andy up on the roof, and Jack already knows the play. "For better or for worse, some of this stuff seeps in," he admits, climbing up to the roof himself, which is not easy to do when you've been shot in one arm. Kudos to Colin Hanks for the physical exertion; obviously he didn't really climb the whole stadium, but even the part in the episode was more than I could do!
By the time Jack gets to the roof, everything has disintegrated into a free-for-all, but three cops against two potheads is not really a contest. In the mayhem, Andy decides to try and jump off the roof, leaving his oversized behind hanging off the railing. Frank and Jack have to haul him in through the window of the press box and so he can be returned to his grateful parents.
Ruiz has to admit that everything turned out for the best, even as she has to deal with both Dan and Frank trying to hit on her. Liz, meanwhile, comes to check up on Jack, as the Rolling Stones' "You Can't Always Get What You Want" plays in the background. Frank elects to stay retired, telling Dan that he's in good hands with Jack. Appropriately, baton passed from the old partner to the new partner, Dan and Jack get to walk off together into the proverbial sunset.
I might not have gotten to hear Wings in this episode, but I did fall in love with it just as I expected that I would. I've talked every week about the great performances from Colin Hanks and Bradley Whitford, so I'll just say that they continue to do excellent work. Hanks does a marvelous job keeping the show grounded while having fun himself, and no one ever really knows what Whitford will do. I certainly hope we see another appearance by Gary Cole as Frank Savage. Anyone who's seen Office Space knows how well Cole does at comedy, and he matches perfectly with Whitford; whoever cast him is a genius. He is the perfect Frank Savage. The plot is its usual mix of amusing and downright ridiculous, but that's the point; it's an off-the-wall, unpredictable, outside-the-box comedy, and it's never too heavy. Sometimes, you just want to have fun, and The Good Guys has always been fun. I consider that an unmitigated success.