There is so much going on in this episode it's impossible to pin down one vision to use in this post. So, I'm just going to continue telling you what I did and didn't like about the episode in plain ole words.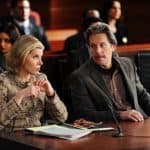 Liberal Diane's conservative on again/off again lover (how that even works is beyond me) Kurt McVeigh is back and needs Diane's help to protect him in a civil case where Lockhart Gardner made a lot of money, and he's accused of evidence tampering. She hadn't even decided to help him out until another attorney told her they want to use a pretty, well known liberal to help in a racist defense. The Good Wife has such a great way of playing politics in ways we'd never imagine. In an Alice like swirl into the rabbit-hole, Diane is pointing out during a case that the Tea Party is not a racist organization any more than any other political group.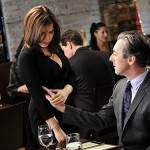 Eli's investigation into Peter's opponent's ex-nanny Natalie (America Ferrara as an illegal citizen awaiting citizenship) is really interesting. Eli completely underestimates her intelligence. He talks to her immigration attorney and tells him to step up the process. This, after he was using her to try to out her boss for hiring illegals and, worse, firing them when it might be a detriment to the campaign. When she asks why he pushed her attorney, he says, "because I'm a hypocrite." This is certainly a side of Eli we haven't seen to date, and it's a nice introduction. Unfortunately, the story gets out and Natalie's life is crushed. She used a fake SSN to get into school, etc. The look on Eli's face is genuinely sorrowful, and I wonder what this will mean to the future of Peter's campaign.
Alicia's daughter is wearing "I Am The Mustard Seed" t-shirts to school and wants to learn about Jesus. They've never explored why the Florricks didn't raise their children with religion, but it is surely a contentious subject in the Florrick household. It was a six wine gulp discussion between Alicia and Grace as Grace compared wine to crack, but it never dawned on Alicia to remind Grace that Jesus turned water into wine. How did the writer's miss that moment? In the end, Alicia gives Grace a bible and says she will escort her to whatever church she wants the next Sunday.
That both sides of every argument, no matter the topic, are left open to the audience weigh and judge is one of my favorite things about The Good Wife. Tonight's episode zigzagged all over the map on these types of issues and didn't once try to force their opinion upon us. Not since Boston Legal has a show been able to play both sides so effectively, and I think The Good Wife may be doing a better job. Woah.
Twitter @modwild, @tvovermind
[email protected]