Last week wasn't the best way to introduce a character that we were to be subjected to again, that played by Rita Wilson. I didn't like her last week, and I don't like what she brings to the show now. On the other hand, we had some other fun guest stars, John Benjamin Hickey (Sean, from the incredible The Big C) and Ken Leung (Miles Straume from Lost) lead a little more excitement overall to the same storyline. Honestly, it was hard to care a lot about three exciting guest stars when we had the big vote to contend with.
"Welcome back to normal" took on a meaning I never imagined when Cary kissed Kalinda. Oh how I love them both, and to even hint that we could somehow have them further intertwined in a more personal way is just the ultimate dangled carrot for this critic. Two of my favorite characters on television sharing more screen time gives me chills. And, if there is kissing involved? I can't even imagine what possibilities any further involvement between them would entail for The Good Wife.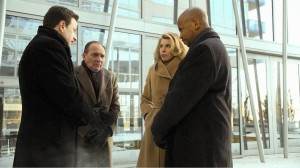 Oh Julius you sneaky, sneaky little bugger! I love how he played Derrick; and, is it just me or did he fall for it based on the race card? Finally we can move on from the show runners decision to bring on Michael Ealy. How he entered and how he ended was in such juxtaposition I really can't believe they knew how it would all play out. His talent was wasted, in my opinion. I guess it was all just to bring Will and Diane closer after the loss of their third named partner, but a more compelling angle would have done justice just as well. In any event, the future of Lockhart Gardner is no longer in question.
We await one more vote after the hiatus. Peter's biggest challenge in the race withdrew after Zach used his less-than-pious female friend to skim more information about hiring illegal immigrants. For now, I'm hoping this topic, as a way to make or break viable candidates, is over. It cheapens The Good Wife in a way they have not otherwise allowed.
A decent episode overall, but not one to tide me over heading into hiatus. So far, I'm 0 for 2 in my hiatus factor. Neither The Good Wife nor Hellcats delivered the goods going into a break. What did you wall think? A good place to take a break? Not enough of our favorites for my taste.