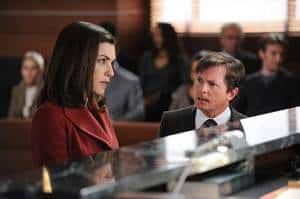 The Good Wife has recently had guest appearances from Lou Dobbs and Joe Trippi playing themselves and both as clients of the firm. When there were reports that Chicago Bulls star Derrick Rose was also going to be making a guest appearance this seemed like a run of the mill cameo story; the show is set in Chicago, a Bulls player would be the expected choice for a basketball cameo. Unfortunately this didn't pan out this way after Rose missed his flight from Chicago to New York (where the show is actually shot) and Rose missed his allotted filming time and his cameo had to be scrapped. The New York Post reported that Rose had refused to come out of his house when the car came to take him to the airport, Rose denies this and has since released a statement to explain his absence and to apologise to the producers of the show:
'The timing was messed up. They had me catching like an 8 o'clock flight. I had to wake up at 6 to catch an 8 o'clock flight after a game (the previous night). That was kind of messed up. I told them the timing would have to be different.He [a producer] said it was nothing big and hopefully, you'll probably see me in another episode. I'm not the type of guy who would try to '˜big time'anyone or anything. It's not my character as a person and I'm sorry that I did it. I apologize to the fans who watch the show, the producers, all the people that work there. I never meant to do it.'
So we may still see Derrick Rose on The Good Wife, but one guest appearance that can definitely be counted on is from Michael J. Fox who will appear tonight on the show as a lawyer who uses his Parkinson's Disease to his advantage in the courtroom. I am really excited about seeing Fox battling it out with Julianna Margulies tonight and whilst the Chicago related cameos are fun it is preferable to have an actor of Fox's standard playing an antagonist such as this over a thirty second appearance by a Chicago star.
Are you a fan of the Chicago based people cameos? Are you bothered that Rose missed his The Good Wife opportunity? Or are you excited by Michael J. Fox appearing tonight?