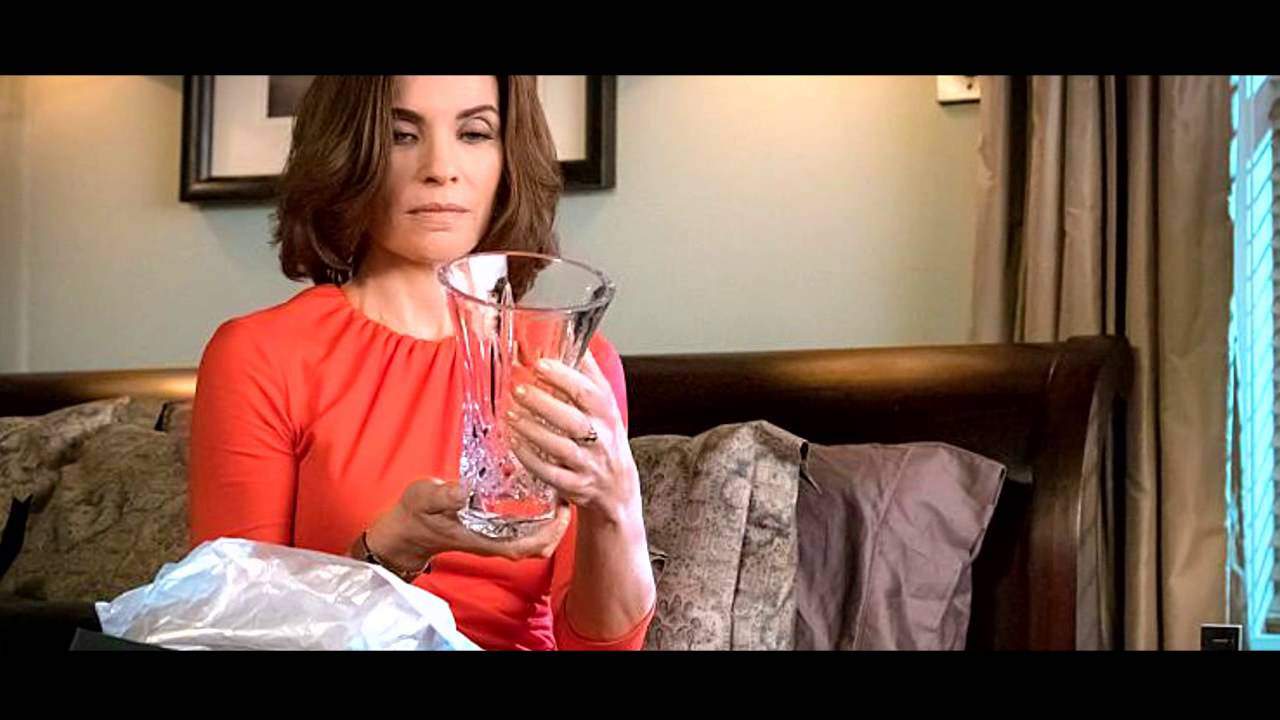 The countdown to The Good Wife series finale continues tonight. Fans are loving the seventh season of the CBS drama, but they know as soon as a new episode airs, that means we are just one week closer to saying good-bye to Alicia Florrick for good. Tonight's episode entitled, "Party," did not disappoint.
Could Alicia's life get anymore hectic? She spends countless hours a day in the courtroom and now she is throwing a wedding party for her mother-in-law and her colleague?! How does she find time the time to sleep let alone be a party planner for two people she could care less about?
After Jason leaves Alicia speechless at her home with a gift (a deed to land on Mars), he pays a visit to Eli. He informs Jason that he would like to find a way to prove that Peter is guilty. This shouldn't be too hard considering all the horrible things that Peter has done over the course of seven seasons. So he sets out to find how Peter is involved in exploiting the Richard Locke case.
Before the party at Alicia's home begins, we get to see the happy side Alicia. Of course, we have seen this side more recently with Ms. Florrick but only when she has been in bed with Jason. This time, the happiness is because of her children Grace and Zach, who is home for his grandma's wedding party. Zach has a surprise: a slightly older girlfriend named Hannah who he will be marrying. He has also taken advantage of the party to announce he will be dropping out of school and moving to France… which makes Alicia a lot less happy than she was 10 minutes earlier. The guest list for the party also includes Peter, Alicia's mom, brother, Eli, Marissa (a fan favorite), Diane, Lucca, and countless other elderly people used for background scenery.
Another big announcement is made at the party when Veronica tells Jackie that Alicia and Peter are getting divorced. Not only does this startle Jackie, but Grace did not know this was happening yet either. Grace runs to tell her brother and the two call out their mother, who explains what is going on with their crazy family dynamic. The children are devastated with Alicia, which is funny because all this stems from Peter's infidelity from years prior.
Jason is hard at work trying to find out what evidence he can unearth to convict Peter. He goes all over town and meets with detectives and crime lab technicians (which are surprisingly still at work so late at night). At the party, Jason alerts Eli that Peter visited the crime scene and told a lab technician to not use blood spatter evidence. It is also found out that bullets from the gun are missing. Before Jason leaves, he tells Alicia that he wants to be with her too and that he can't be tied down to one place his whole life.
In case you were missing Cary (and you should be), he does make a small appearance. He has approached Louis Canning and asks for representation because he thinks he is going to be in trouble with the Locke case. Apparently, there aren't many lawyers in Chicago…. Canning phones Diane and asks if she would like to join forces against Peter since she is now representing Eli for the same reason.
Eli takes the news he obtains from Jason and attacks Peter. For once, Eli is going to stand up to the man that he has idolized and protected for so many years. Peter believes what he did was correct because the lab technician walked through the blood spatter, which he thought was sloppy work. Additionally, Peter admits that he hired Diane's husband Kurt to recheck the ballistics from the scene and that was why bullets were missing. Jason goes back and checks his work and finds out that the lab tech has been messing with cases that Peter has been a part of for years. Does she have something to do the Governor's past?
The end of the episode almost brought me to tears as all the guests bid adieu to Alicia. It was almost like this was the last episode with everyone's final curtain call. Thankfully, there are two more episodes left before we have to say our real adios to Alicia Florrick.
What did you think of tonight's episode of The Good Wife? Let us know in the comments section below.
Photo by: CBS