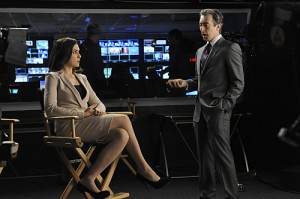 The house Alicia looked at was gorgeous. I want that house. You know, I'll even sleep in it with Peter if that's what it takes. Oh the things I will do for a good cause.
America Ferrara was really growing on me. I wish they would have kept her on the show. She was cute, funny and sweet. Natalie added a nice touch of naivete but with knowledge and a cleaner view of the sometimes corrupt legal system. I will miss the humanity she brings to Eli.
How funny was the conversation with the Venezuelan president about Courtney Love, her lack of love in our country and her missing Academy Award. No offense to any Venezuelan people, but it shows how poorly some countries are run and how lucky we are to have our government, flaws and all. At least we have a chance! To add to the insanity of it all, Fred Thompson was hired as the president's attorney. Although he wasn't a district attorney. He was, however, good enough to admit he played one on TV.
This was seriously one of the most incredible episodes they've produced. Were they sucking on the special lolly pops given out where Adam Braverman works on Parenthood?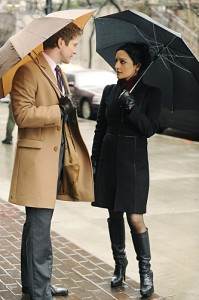 For once, Cary got to ask Kalinda for some help. For being such a strong woman, she sure does ask for a lot of favors from her friends. To help Cary out, she needed to be quicker. She should never have assumed that because the interviewer didn't plant the question on Alicia that she was out of the woods. She is an investigator. Would she give up in the same situation? Not a chance. I guess she just wanted to live in a little dream world until her own imploded. Cary's future will be all up to him.
I'm not really sure whey the investigator insisted on telling Alicia about the other woman. Yes, he thought she should know the truth, but is it really his truth to tell? I'm saying no. The aftermath of this is going to be devastating. This should break up her marriage again, and send Alicia into Will's arms. Who does she have in this world to trust? Peter knows how close she and Kalinda have become, and he let that relationship grow into something that is integral to Alicia's life. Kalinda should have told Alicia, too, but I think she was trying to keep from her unnecessary pain over something that was long over. And, she was not the one who cheated. She didn't know Alicia then. The circumstances around why they both kept the secret are very different.
The Good Wife is holding steady in the ratings, and assuming it gets a third season and her marriage to Peter is again in question, we should be in for some incredible cases next year. Because every case will take on a personal appeal as their two companies square head to head in the courtroom.
The kicker is that after this bombshell, we still have three more episodes to stumble around the wake of this big reveal. Will she tell them she knows? Seek solace in Will's arms and keep the secret? Will Kalinda know the secret is out as their relationship changes? So many things to contemplate, so little time for consideration.
[email protected]
@modwild
@tvovermind