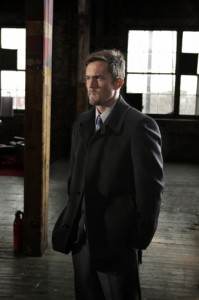 Gossip Girl fans, Chuck Bass is not having a good day. Well, he's actually not having a good couple of weeks. First there's the whole business with Raina and her mother, then there's the fact that he's still in love with Blair and she's working her way towards an engagement with Louis. Then there's return of Chuck's hated uncle, Jack Bass (Desmond Harrington).
In the May 9 new episode of Gossip Girl, Jack Bass returns to Manhattan to stir up some more trouble. According to The CW, Jack puts something in motion that could very well destroy Chuck and his friends. From the photos below, we can also see that he and Nate come to blows with Jack watching on.
Charlie continues to establish herself in the circle of Serena and her friends. She's finally starting to feel comfortable around them, but that may change again when she's invited to the Constance Billard alumni fundraiser.
Finally, Blair is going to have to make some tough choices in the coming weeks. Her fairytale romance with Louis could be derailed when the other men in her life continue to make their interest known.
Below are promo photos for the May 9 episode of Gossip Girl, courtesy of The CW. You can also view promo photos for the May 2 episode here.
[imagebrowser id=988 template = flipped]
clarissa @ tvovermind.com
twitter.com/clarissa373
twitter.com/tvovermind