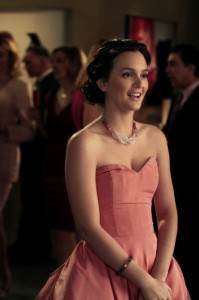 The real story on Gossip Girl these days isn't the fact that Vanessa is still kind of boring, or Serena and her never-ending drama. It's Blair and her new potential relationship with Dan Humphrey.
And her new potential relationship with Prince Louis Grimaldi.
And the potential rekindling of her relationship with Chuck Bass.
In other words, Blair Waldorf is both popular and very, very busy. Below is a trailer from The CW that showcases scenes from several upcoming episodes. They're putting this information out there, so I have no problem in telling you that Louis will be coming to New York to find Blair in the next episode. From the trailer below, we can assume that the two of them hit it off again and grow closer. In fact, they get engaged! But on the fringes of this rekindled romance is Chuck, who seems desperate to get Blair back. Then there's also Dan, who admits to Eric that he kissed Blair. There's something between the two of them, but the real question is whether they can create a relationship out of a kiss.
Things are going to be heating up in Blair's life as season 4 of Gossip Girl winds down. With Louis back in her life, along with members of his family, and Chuck beating down the door to get her back, the question is who she will choose. Or whether she'll choose any of them at all.
New episodes of Gossip Girl return on Monday, April 18. View promo photos for the episode here and view the trailer below.

clarissa @ tvovermind.com
twitter.com/clarissa373
twitter.com/tvovermind