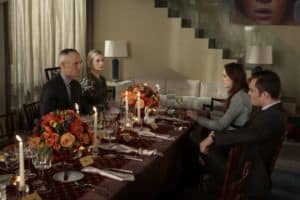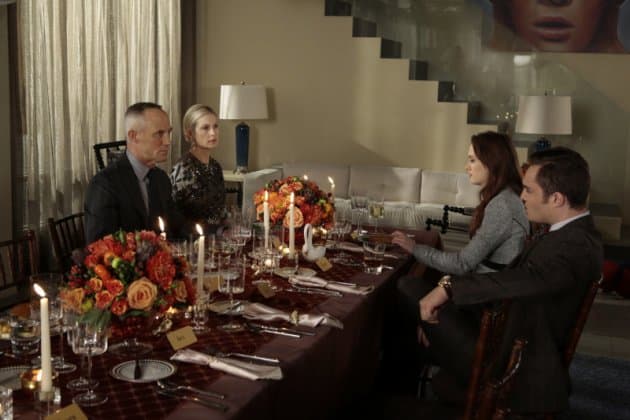 It's Thanksgiving on the Upper East Side tonight and with just three episodes left of Gossip Girl's final season there will be more than just turkey on the menu, expect a side dish of scheming. Serena (Blake Lively) and Dan (Penn Badgley) host their first Thanksgiving as a couple and invite all their friends over to celebrate, but it appears that everyone attending has their own agenda.
Last week ended with Dan telling Georgina (Michelle Trachtenberg) that he's writing the Serena chapter, so are his feelings for Serena pure fiction? It's hard to believe that Dan would be this cruel, even if he has been on top form with acting like a self-righteous jerk this season. If this is his plan then he really has been playing the longest con of all; getting accepted into this social circle just to burn them down. This would be a huge and unexpected move on Gossip Girl's part and I can't see Dan as the type to follow through with this plan. Tonight's episode has Dan trying to decide what he should do with this last expose as well as co-hosting this Thanksgiving feast. As you can see from the promo Dan will get punched at least once, something that I'm sure some fans will appreciate.
At the moment Serena believes that Dan has no motives beyond rekindled feelings for her, but what does it mean that Steven (Barry Watson) is part of this episode? It seemed like their story was well and truly over as a result of her sex tape, but it looks like there might still be a chance for the pair. Sage (Sofia Black D'Elia) is also part of the awkward group of guests at the dinner; is Nate (Chace Crawford) turning to his ex in his time of financial need? This might seem ridiculous as Sage is still in high school, but her father is rich so this could be why Sage is there.
Nate wasn't the only character who felt like he had lost everything at the end of last week and Chuck (Ed Westwick) is wallowing in his own defeat. Blair (Leighton Meester) is trying to find a solution to the Bart (Robert John Burke) misdeeds as Chuck claimed that they still can't be together as he failed. Blair has been successful with her teen line so her focus will be all about Chuck now. As I said before I can't see this pair not ending up together by the end of the show and this is just one final obstacle for them to overcome.
After a season that has featured not a great deal of Blair and Serena sharing a scene, the pair has finally made up and hopefully this time it will stick. We've been told on countless occasions that this is friendship at the heart of Gossip Girl and hopefully these last three episodes will showcase this.
Expect fireworks tonight at this Thanksgiving and watch a promo for "It's Really Complicated" below. For more promo photos from the episode head here.
http://www.youtube.com/watch?v=PtR6CLW_ON4&version=3&hl=en_US