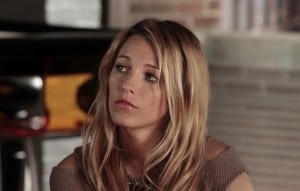 At the end of the last season of Gossip Girl all was not well for Serena (Blake Lively) and with the season 6 premiere just around the corner, we do have some details that are likely to reassure fans of one of Gossip Girls favorite subjects (and also a one time Gossip Girl herself). This final season is set to show the characters growing up, but I'm sure we will see hijinks and scheming before the year is out.
The CW has released a synopsis for the second episode of season 6, that airs Monday, October 15 and is called "High Infidelity": FRESH STARTS – Trying to prove herself in adult society, Serena (Blake Lively) hosts the Central Park Conservancy's big gala, of which she is now the newest Board Member, and she and Nate (Chace Crawford) both learn something shocking about their significant others.  Blair prepares (Leighton Meester) to debut her new fashion line, but a rival from her past holds the key to her future.  With the help of Georgina (guest star Michelle Trachtenberg), Dan (Penn Badgley) lands some meetings with publishers, but he must decide if he is willing to sacrifice his integrity in order to get his work published.  Meanwhile, Chuck (Ed Westwick) tries to persuade Amira (guest star Andrea Gabriel, Lost) to help him look into his father's past, even if it means jeopardizing Lily (Kelly Rutherford) and Bart's (guest star Robert John Burke) relationship.  Matthew Settle and Kaylee DeFer also star.  Barry Watson and Sofia Black-D'Elia guest star.  Joe Lazarov directed the episode written by Annemarie Navar-Gill (#602).
Sounds like second acts can exist on the Upper East Side, though will Dan's next book project be the thing that makes him a huge success or ruins his career and relationships? Who is Blair's rival from her past?
Don't miss the season premiere of Gossip Girl on on Monday, October 8 at 9:00 p.m. ET/PT on The CW.  Watch a preview for the new season here and check out the promo photos here.