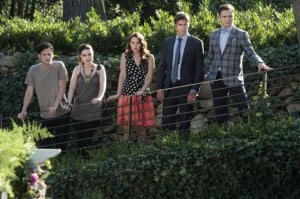 Serena van der Woodsen is missing in action when Gossip Girl returns for its fifth and final season in October.  And people are concerned enough to get together a motley crew to track her down.  While Gossip Girl hasn't been able to find the New York socialite, her friends (and enemies) track her down …but they're in for a shock when they realize she's shacked up with a rich guy and is living under an assumed name.
Serena's new life isn't even the worst of the problems the Upper East Siders will face this season.  Blair and Chuck have reunited, but they still need to get his empire back from his father.  Dan – with some help from Georgina – has written a new book that will get him into even more trouble than his first book did, and Nate is bound and determined to finally expose the real Gossip Girl.
While Blair and Chuck have found their way back to each other, another long-time couple will be on the rock.  After Rufus finds a new ally that Lily doesn't agree with, the two turn on each other.  And Ivy, Bart Bass, Jack Bass and Georgina are sticking close to the city, determined to make trouble.
Watch a preview for the new season here.