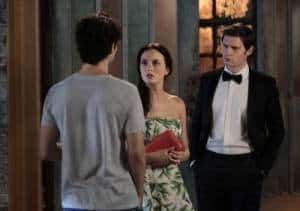 It feels like we've had to wait forever for Gossip Girl to return for its fifth season. Well, I've got good news and bad news for you. The bad news is we still have to wait until September 26. The good news is that we've got a sneak peek to share with you.
The gorgeous – and apparently ageless – Elizabeth Hurley will be joining the cast for a multi-episode arc in season 5 as the wealthy Diana. Nate will encounter her in Los Angeles when he and Chuck decide to stop by the west coast to visit Serena after their summer abroad. And Diana is a very forward woman. While Nate tries to convince the girls at a party that he's a movie star, Diana is all "shall we check out the bedroom? *wink*wink*" Naturally, who is Nate to refuse a request like that?
Meanwhile, Blair and Louis will be returning from their summer in Monaco, ready to start planning their royal wedding. But there's that mysterious potential pregnancy hanging over the Waldorf apartment back in New York.
Below is a sneak peek and another trailer for the season 5 premiere of Gossip Girl. Is Blair the one who is pregnant? Is it Chuck's baby? Tune in to Gossip Girl on Monday, September 26 at 8:00 p.m. to find out!
Want to read more spoilers for the first two episodes of the new season? Click here.