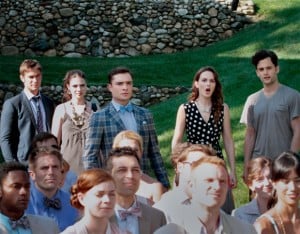 It's time to bid farewell to the Upper East Side, Gossip Girl fans. Â For over five years we've watched these crazy NYC kids juggle high school, college, businesses (even though they're not old enough to really run a business), relationships, family drama and friendships, but all things must come to an end.
The two-hour series finale of Gossip Girl will air on Monday, December 17 beginning at 8:00 p.m.  The first hour will consist of a restrospective about the show which will feature "a look back at the unforgettable OMG moments of the series that made headlines, including interviews with the cast and creators themselves."  The second hour will be the scripted series finale.  Viewers will also be treated to a sneak peek of The Carrie Diaries, which is based on the Sex and the City prequel novel of the same name by Candace Bushnell.  The Carrie Diaries (watch a preview) will be premiering in January 2013 and will likely take over Gossip Girl's spot on The CW schedule.
A new episode of Gossip Girl was supposed to air this past Monday but was bumped because of Hurricane Sandy.  That episode (watch a preview) has been rescheduled for November 5.
Remember to keep an eye on our Gossip Girl page for all of our previews, sneak peeks and spoilers for the final season.